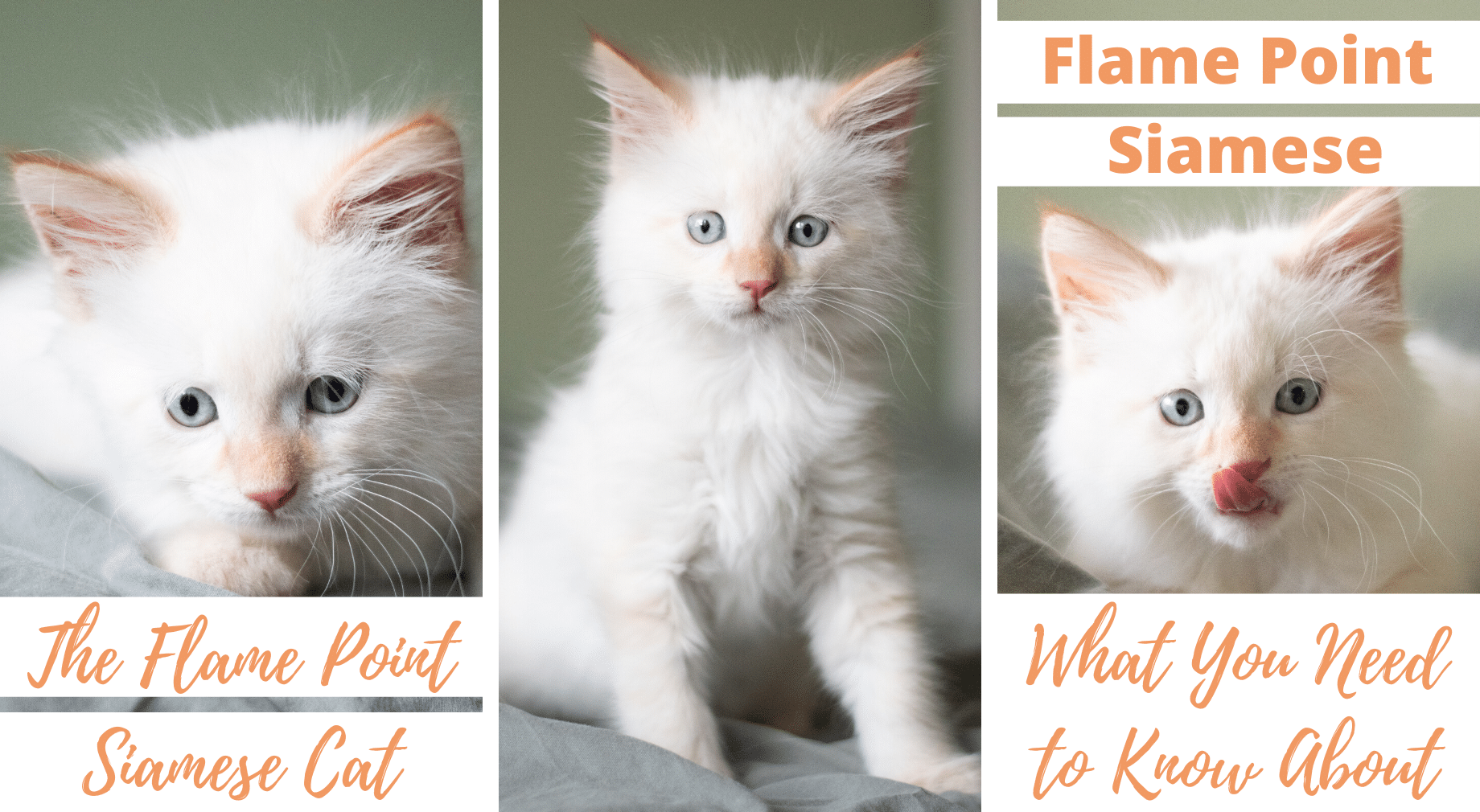 Siamese is really beautiful and is very famous among all cat breeds. These cats have unusual coat colours and colour points over their coat. These points are darker in colour and you can see them around the cats face, paws, tails, and ears. Depending upon the coat colour, Siamese has different colour points which can be seal point, blue point, chocolate point, lilac point, cream point, and redpoint or flame point.
In this article, we will discuss in detail about Flame point cats but before that let us also discuss few things about other colour points.
Seal point Siamese breeds have almost black points or these points can be dark brown too. You can see these points around the cat's nose and paw pads with a cream colour coat. It is said that this is the original colour of the Siamese cat when this breed was first exported from Siam.
Cats in this colour look very beautiful with blue eyes and fur and have slate grey points. These cats have slate grey noses and paw pads with a bluish-white body.
The cats with chocolate points have cream coloured body and milk chocolate coloured points. These Siamese have a light chocolate coloured nose, paw pads, and tail.
Siamese with Lilac points is seen with pink-like grey coloured points. These cats have a white fur coat and lavender nose and paw pads.
Cream Point
In this case, Siamese has a cream colour body and the points are very light in colour with pink paw pads and noses.
The Flame Point Siamese cat (or Red Point)
Now you may be wondering what is the flame point?
Redpoint Siamese are considered as flame point cats. This breed of Siamese is very beautiful and rare and they have bright, reddish-gold points. Siamese looks very beautiful in these points and have sparkling blue eyes which makes them more attractive.
This breed is very rare and some may say that Flame point Siamese don't even exist. But yes they do exist but are hard to find. In the U.K this breed of Siamese is often called as Flame point Siamese but in Australia and US, they are known as Red Point Siamese.

So a Flame Point Siamese cat is actually a Red Point?
Both flame point Siamese and Redpoint are same breed cats but they are called by different names in different countries. Red point Siamese have a creamy white fur coat and sparkling blue eyes. They have reddish-gold face mask, tail, and strips in legs with a pink nose, and paw pads.
It is said that when seal point Siamese breed was first introduced to the U.K in 1930s they were bred with red tabby or tortoiseshell British shorthair cats that carried Orange genes. Since then this flame point Siamese came to existence.
Most of the flame point or red point Siamese have stripping on their faces, legs, and tails. Like other Siamese kittens, flame (Red) point kittens are also pure white when they are born and they develop these points later after several months. It is noticed that these Flame points or red points keep on deepening with age of the cat and become darker when they grow up to two years of age.
Do Flame (Red) Point Siamese have Blue eyes?
Yes flame (Red) point Siamese do have blue eyes as another colour point Siamese. The reason for blue eyes is the Himalayan gene in them which also makes them partial albinism.
The genetics behind Siamese cat Color Development
Siamese cats have a Himalayan gene in them which makes them partial albinism and because of this gene, they have certain colour points in their body. This gene is heat sensitive which means cooler the area darker will be the colour. Because of this gene all Siamese kittens are born white and later they develop dark points around their face, tail, and legs. The reason Siamese have blue eyes is because of this Himalayan gene in them. However, a genetic mutation of this gene restricts colouring to the cats' extremities and it includes the face, cats' legs and also the tail. During the genetic mutation, the enzymes that produce pigment in the fur gets affected but the amount of pigment these enzymes produced is greatly affected by temperature. In the womb where the temperature is warm kittens colour remain white but when they are born are exposed to a certain temperature, they develop darker colours. With time and age, the colour points will get darker until they reach two years of age.
Determining Color Points in Young Kittens
As discussed above that all kitten is born white, it may take as long as a year for colour points to develop in a colour pointed breed. But within the first few weeks or within a month you can guess the colour points that will develop and you can get to know about it through the pigment on the animal's nose and paw pads. Development of the pigment also depends upon which colour points a kitten will develop in future. Usually, in seal point and blue point kittens, the pigment starts developing within 10 days after the kitten is born. In chocolate point and lilac point kittens, this pigment develops in 12 days while in Flame point (Redpoint) kittens this pigment develops in 15 days.
What Age Are Flame Point Siamese Cats Expected to Live?
Like other colour points Siamese, Flame or Redpoint Siamese also have a long life span. They usually live anywhere from 15 to 20 years and surprisingly few may even cross that time frame. Life depends upon how healthy your Siamese cat is.
Do flame point Siamese cats shed?
Yes, Siamese does shed like other cat breeds. But the thing to notice here is that Siamese shed very low as compared to other cat breeds. Usually, Siamese cats undergo two moults a year. They will shed normally in spring when they start preparing themselves for warm summer days and they will shed again in fall when they will start developing a new undercoat for winters.