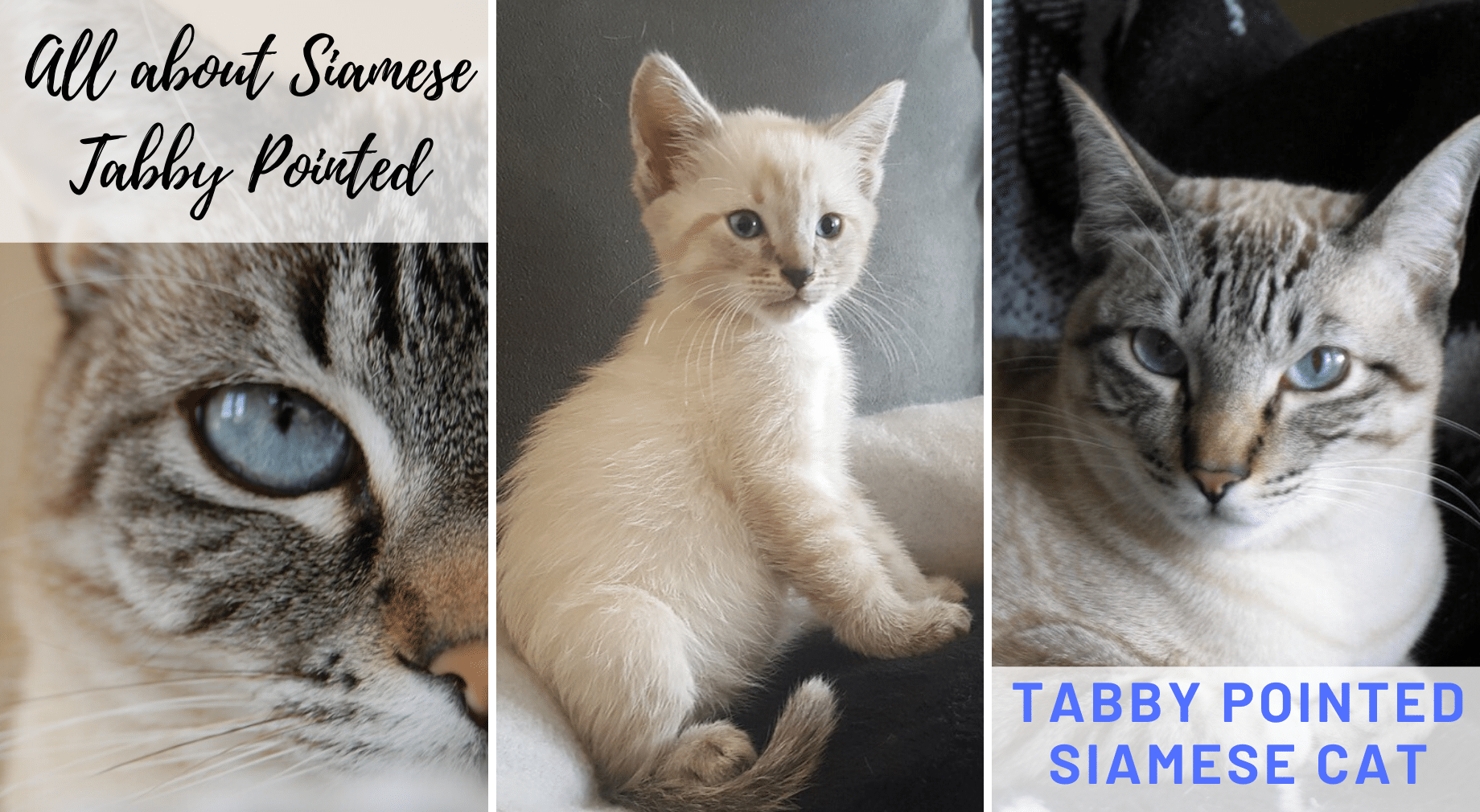 Lynx point Siamese cats are also known as Tabby point Siamese in the UK. They look like wild lynx and are a crossbreed between Siamese and tabbies cats. It is said that breeding began in the 1940s and the first kitten born from these two was again cross-bred with a purebred Seal Point cat.
After this, we got our first seal tabby point Siamese cat. The first Siamese tabby point was the result of an unplanned mating. After the first kitten was born it got lot of attention and thus breeders actively started trying to produce tabby Siamese points
Physical Characteristics:
Tabby pointed Siamese cat has stripes mostly around their legs, eyes and cheeks. Their tail is long and it is marked with various rings of colour. The body is much similar to other Siamese breed and the coat starts to darken with age hence showing off the stripes. Tabby pointed Siamese are available in many different colours and these are apricot, cinnamon, red and caramel, blue, lilac, seal and chocolate.
This breed has triangular shaped ears and blues eyes like Siamese. The colour of ears is outlined with the colour of the stripes present on the face of these cats.
There is also an "M" shaped marking present on the forehead of tabby pointed Siamese cats.  They are beautiful, elegant, striking, and distinctive looking animals.
Friendly & Loyal:
You will find many similarities in the character of the tabby pointed and Siamese breed. They are very friendly and love human interaction. These cats are not as vocal as other various breeds but their loving personality is something you cannot miss. These cats are very loyal and intelligent like Siamese and they love to play all day long. These cats are perfect pets for those who love friendly cats. The lifespan of Tabby pointed Siamese is about 15 to 20 years.
Tabby pointed Siamese love so much of human interaction that they do not prefer to be left alone especially for longer durations. They easily get depressed when they are left alone for a longer period of time. You can easily train them various games as these cats are very intelligent. They love to be cuddled and demand attention from people.
Tabby pointed Siamese shares many similarities to that of any other Siamese breed with few differences. They are very loyal, friendly and playful in nature and this quality you will find in other Siamese breeds too.
How to identify if a Tabby Pointed Siamese cat?
As discussed above, these cats share many similarities with Siamese cat breeds. The reason for similarities is cross breed connection between Siamese and tabby. Here is how you can identify a Tabby Pointed Siamese cat:-
Tabby pointed Siamese have well-defined stripes around the eyes, nose and cheeks.
This breed has 'M'-shaped marking on the forehead
They have a long tail with rings of colour and these rings extend all the way up the tail.
Legs of tabby pointed Siamese should be stripped with the colour same as the strips on the upper body.
Their ears are triangular in shape and they are also outlined with the same colour as the stripes on the face.

Notes on tabby markings
Marking on a tabby cat is because of the agouti gene, in combination with other genes that give a tabby either a striped, spotted or mottled pattern.
This combination of genes which gives coat pattern is called the 'mackerel' gene.  It is because of this gene stripped tabby have 'M'-shaped marking on his forehead.
Can you live with a tabby Point Siamese cat?
Before you commit yourself to have any pet you must be prepared to give time, commitment, and the right environment. Tabby point Siamese demands time and human attraction.
They love to get pampered from their owner and they are very friendly in nature. When you will show them love, care and attention then they will not hesitate to return it. If you are the person who can't spend much time with your pet then these are not the cats for you. Having them around will make your house full of life.
Tabby point Siamese cat grooming and health
Tabby point Siamese cats are very healthy and they usually live up to 15 to 20 years. Their hairs are not so long and have a very fine silky coat which can be easily maintained with weekly combing and bathing.
Their fur is less thick than other breeds and doesn't shed as easily. You also need to clean their ears and trim their nails as well.
Cleaning Your Cat's Ears
It is easy for tabby Siamese cats to clean their fur but they can't reach their ears easily. For them, it is difficult to clean them with front paws and back legs are far from the ear.
You need to check the ears of your cat once a week at least. If you find any wax then you must clean and remove it.  Wet cotton balls or toilet paper can be a handy tool to clean the ears. You have to almost brush the ears from behind eyes to the neck.
If you find it difficult to clean then ears then you can contact your local veterinarian.
Safely Trimming Cat Claws
You need to safely trim the cat claws. Trimming the claws is a tough job for many and if you can't do it then we recommend you to take your pet to a veterinarian.
You need to trim the cat's claws twice a month or thrice if claws grow quickly.  The nail clipper is what you need to trim those claws. Cats get familiar with trimming if you start doing it when they are a young kitten.
Surprise! Even Teeth Need Grooming
Tabby pointed Siamese are susceptible to periodontal disease and that is why you need to take care of their oral health. Just like humans, they develop gum diseases if not properly cared for.
Teeth brushing is needed daily if possible. You can do brushing weekly or at least monthly as it is better from no brushing.