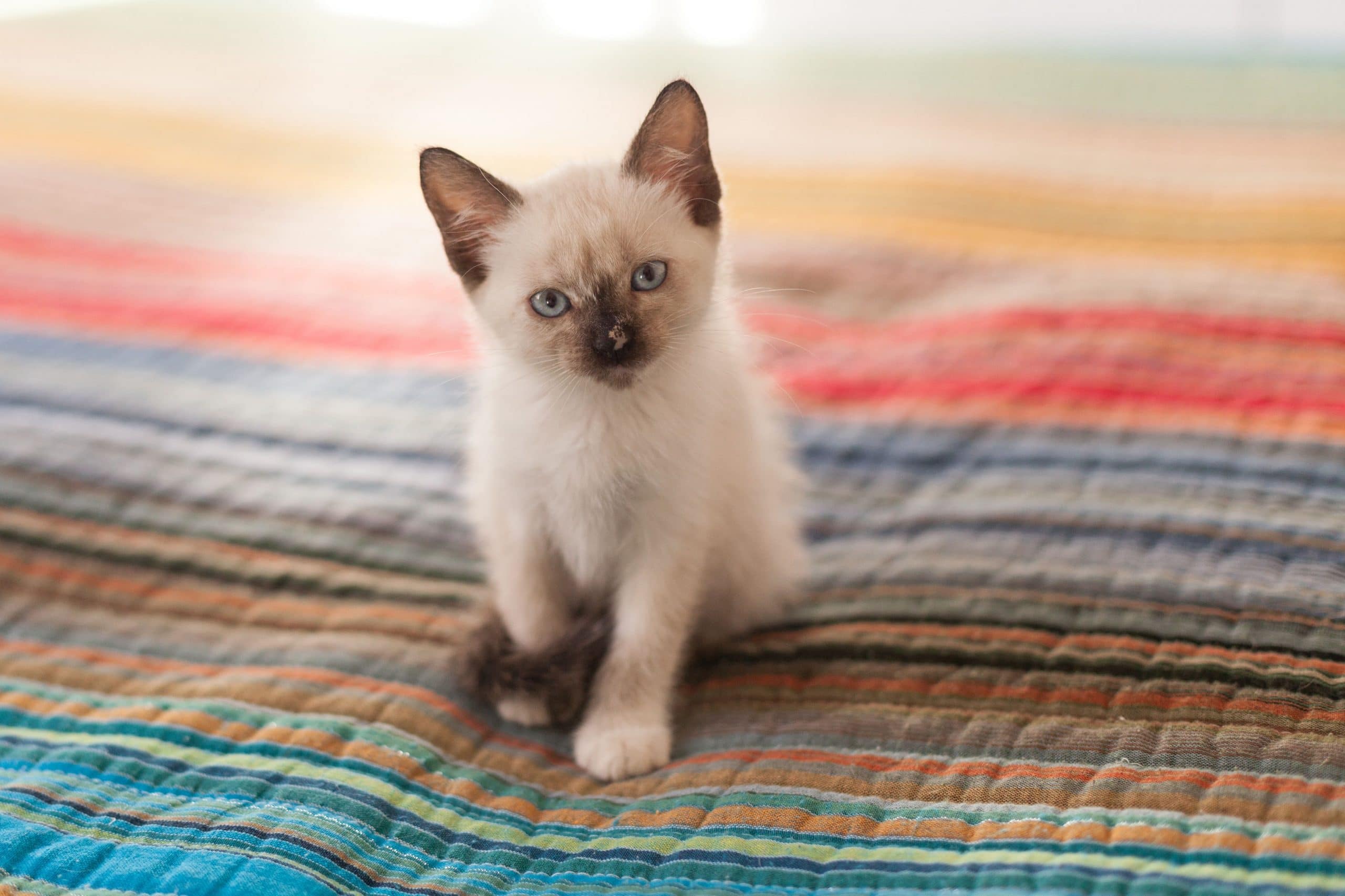 Alas, you got home that little bundle of fur. Getting home, a kitten or a grown-up cat is not one and the same.
There are a lot of Do's and Don'ts that one should be prepared for.
When you bring home a kitten, taking care of it would involve a lot of tasks. You would be basically set up a groundwork for its future health.
There are multiple needs of the kitten that should be paid heed too. Hence, it is important to be well-prepared before getting home a kitten.
In this blog, we will talk in detail on how one should take care of a Siamese kitten in terms of its overall health and entertainment.
Food:
When you purchase a Siamese kitten from a well-known breeder then it would be ideal to inquire about the food that should be fed to the kitten.
It is best to provide the Siamese kitten with the same food that was also used by the breeder.
One of the reasons for doing the same is, that when you get home the kitten and instantly change its food then it can lead to diarrhea and vomiting.
The kitten may not get quickly adjusted to the change in food. It takes time for the kitten to get accustomed to a new type of food. Hence, it is advisable that in those initial days try to provide the same type of food.
You can gradually change the food type by mixing the new food with the food that is being provided to the kitten. This way, it would get used to the new food as well and it would not interrupt the food system of the kitten.
High-quality food and Feeding time:
If you are unaware of the type of food that was given to your kitten by the breeder then you can opt for different food that is of good quality. Try to research the kitten food brands and also check out the online reviews, Cherry Picks Reviews is a choice for cat supply.
The number of times you feed your kitten is also important. It is not advisable to feed a huge quantity of food all at once in a day. There is a need to split the meals into four or five times throughout the day.
This practice should be carried out until the kitten attains for six months. Once the kitten is old enough or more than six months then you can split the meal to two large in a day. Spacing out the meal timings in the entire day would provide enough time for the kitten to digest and get adjusted to the food.
Check out the label of the food to see the contents available in it and also guidelines in terms of how much to be given.

Safe toys:
Siamese kittens are very active compared to the other breeds hence there is a need to keep them busy or entertained. It is advisable to select some good quality safe toys for your kitten.
These toys are easily available at the pet store or online pet shops. Select toys that do not pose a choking hazard. Lightweight toys such as small balls would keep your kitten entertained.
You can also make use of fishing pole toys wherein you can also play with your feline and develop a good relationship. Since Siamese are curious by nature, you can also go in for stimulating toys.
Puzzle toys are great to avoid boredom in your kitten but it should be used only under supervision.
Vaccinations:
Once you get home a kitten, the first thing to note is finding a good vet. In the initial year of the kitten, it is recommended to take your kitten to the vet for all the necessary health check-ups and vaccinations.
You can search online for a vet around your area or also ask the breeder for recommendations. Select the vet that has a good reputation.
Vaccinations are important for a kitten in its initial year so that it can prevent diseases such as calicivirus, feline distemper and others.
They would also need a shot of rabies. Not all the owners would be aware of the vaccinations to be given. Your vet would provide a schedule on all the necessary shots required and when to be given.
Make a note of health issues:
As a cat owner, it is important to have a fair idea about all the health problems that can occur to a Siamese kitten. Talk to the vet about breed-specific health issues and how to avoid them.
Dental and respiratory issues are some that need to be taken care of. You can get an understanding from the vet about any symptoms that need to be watched out for to avoid any last-minute rush. Obesity is a common issue found in Siamese cat.
Hence, your vet would be the best person to guide on how much your cat should be fed to avoid the risk of obesity. The vet would recommend the necessary exercises and diet keeping in mind the age and health of your kitten.
Bonding with your cat:
Siamese cats are a social and friendly animal. When compared to other breeds, they love to spend time around humans.
Hence, when you get home a Siamese kitten you would need to provide them with ample time so that they do not feel bored or left out. Cuddle and snuggle them so that they feel loved.
gently brush their fur to form that bond with them. Provide them with good basic amenities such as good food and clean drinking water. Litter train them from those initial days.
Play with them and also provide a comfortable sleeping cushion. Taking care of small details would ensure that the kitten grows up in a loving and caring environment.