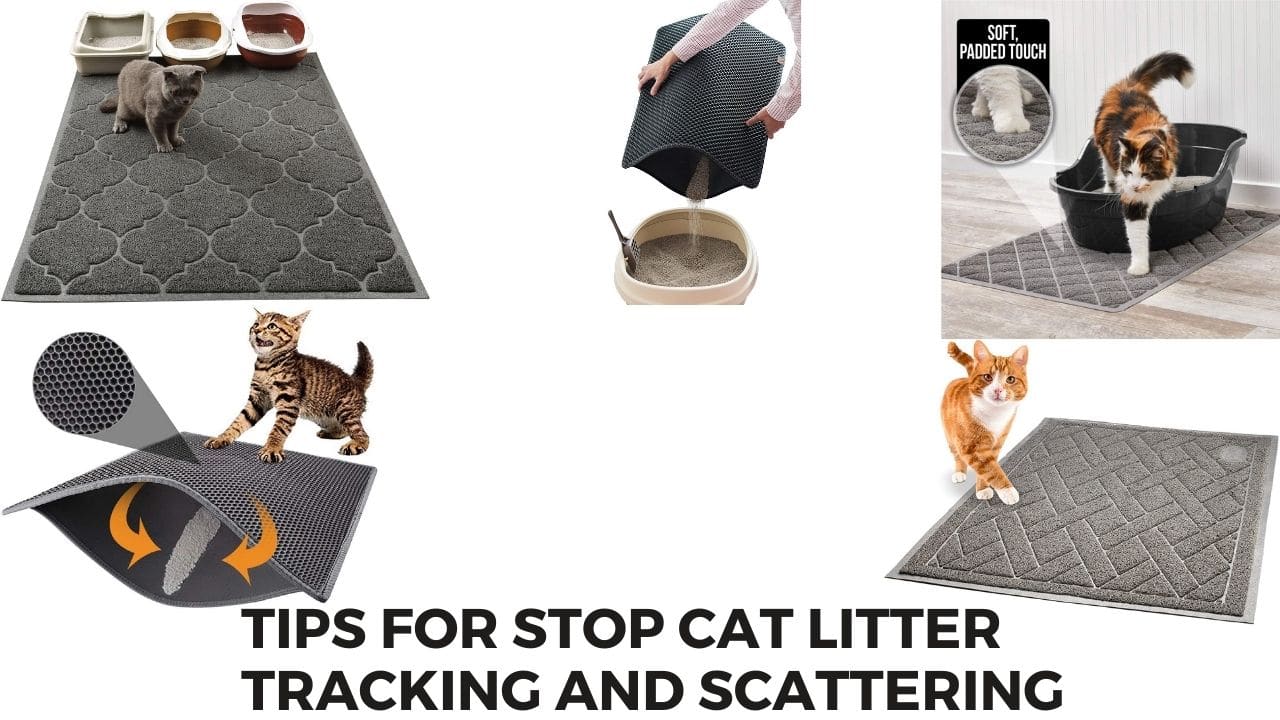 Every new cat owner wants to know how to keep their cat from trailing litter. Cleaning up tracked litter is, of course, one of those cat-parent duties that never seem to stop, especially if you don't address the problem at its source. Cats can be picky about their bathroom habits, so maintaining your cat's litter box up to their standards is critical if you don't want to deal with a regular mess at home. Keep your cat from "thinking beyond the box" by following the advice below.
How to keep cat litter off the floor? Use your broom and vacuum — a lot.
It may go without saying, but keeping on top of the litter scatter near the box helps control litter tracking. You will have less of a problem if you sweep multiple times a day.  Keep a broom and dustpan beside the litter boxes, as well as a vacuum in the closet.
Is there a no-mess litter box? Contain your cat's litter box.
If you have a spare bathroom, the box can be stored in the tub or shower stall. If your cat is older and arthritic, or a kitten, the tub might not be the best solution, but it's worth a shot for others. You may also want to consider purchasing a plastic kiddie pool. Put the litter box in the pool (without the water, of course) and your cat can kick litter all he wants while it stays contained in the pool. Then, theoretically, much of the litter will have dropped off your cat's paws as he exits the pool. Another way to reduce litter tracking is to cut an entry/exit hole in one side of a large storage tub with high walls. Make sure the hole's edges are sanded so your sweetheart doesn't cut himself when getting in and out. Put the litter box inside the storage tub so the cat still has a few steps to take before he's out on your floors. Trays placed beneath the litter box can also be beneficial. Under the litter box, use a large plastic tray, which will help keep the scatter from spreading. Consider "cat furniture" options like the Kattbank bench if you want to go all out. It's a decorative bench with a litter box and a plastic grid to keep litter confined; the cat must cross the plastic grid to exit the bench, so there's no dispersal.
Is there a no-mess litter box? Rethink your cat's litter box
Litter dispersal is greatly reduced by using high-sided litter boxes. You can make your litter box by using the deep, high-sided plastic storage box and pouring litter straight into it. Top-entry litter boxes can help solve both the scatter and the tracking problems. The cat can kick up litter and then leap from the top, ideally leaving the majority of it in the box.
How to keep cat litter off the floor? Employ rugs and mats to help stop litter tracking
There are many rugs and mats on the market that are designed to catch litter attached to your cat's paws as he exits the litter box. Rubber mats with grooves, sisal carpets, and everything in between are available. Even a simple throw rug or carpet remnant can help trap trash particles. Bathmats that are thick and shaggy are also beneficial. Consider having your cat "walk the red carpet" after he uses the litter box when picking the size of the mat or carpet. Lay a three-foot-long carpet runner from the litter box to give the litter plenty of time to detach from your cat's paws.
Our Top Cat litter Mat From Amazon
---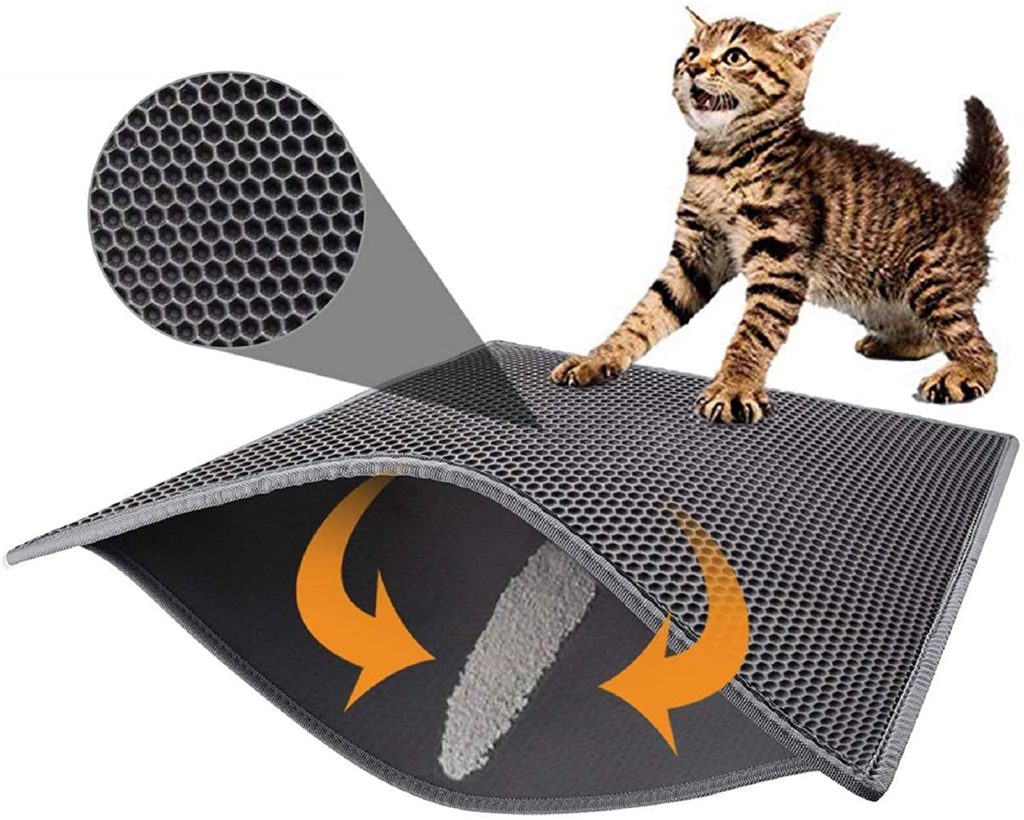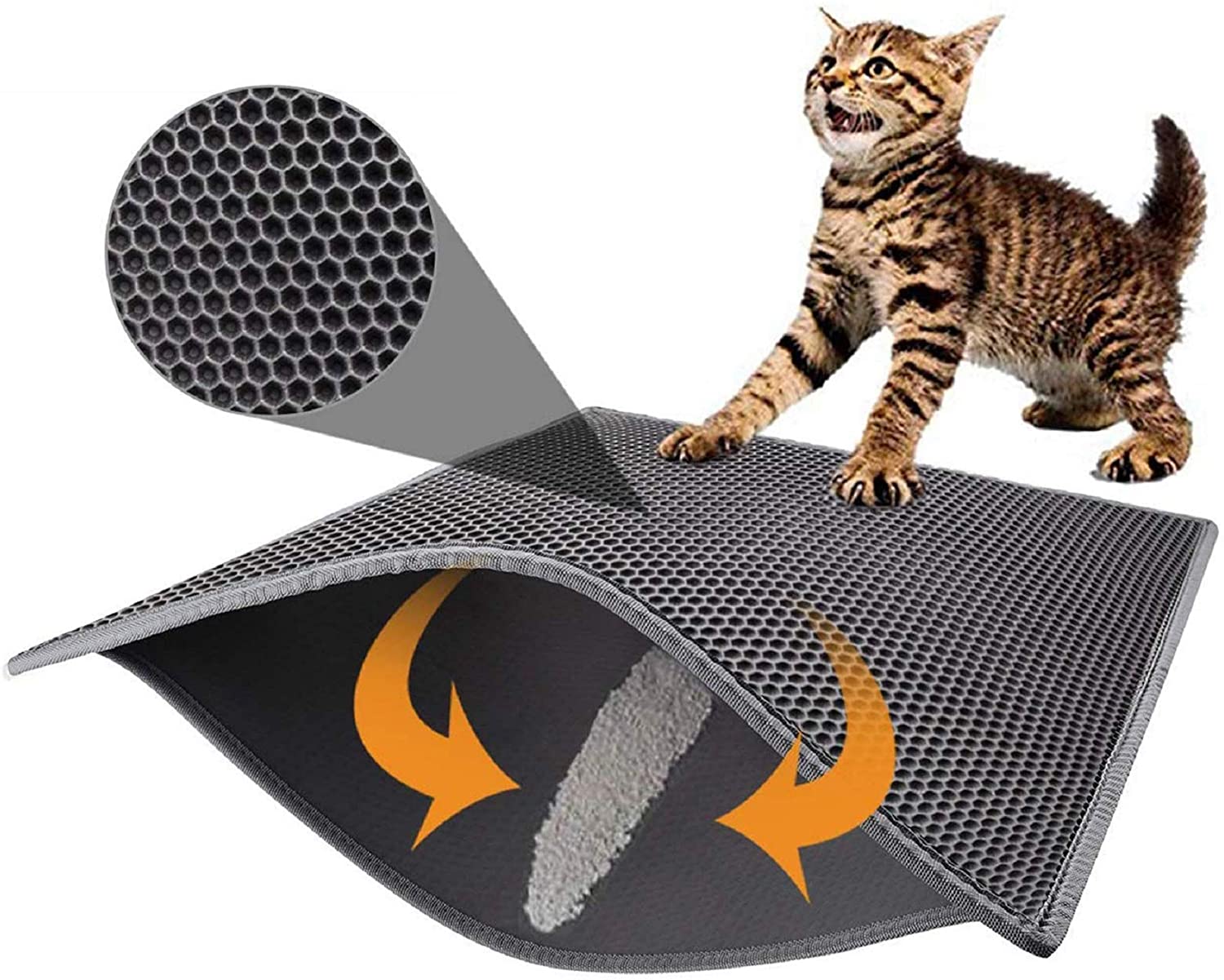 Pieviev Cat Litter Mat-Super Size

This mat is one of the best litter mats available on Amazon starting from just $10.99. It is available in two sizes with dimensions 24"*15" and 30"*24" pricing $10.99 and $17.99 respectively. The item has been reviewed by nearly 4600 customers so far with a rating of 4.4/5 which makes it one of the top picks. The mat is good for cats of all sizes and you can also choose the size accordingly. Also, the bottom layer is waterproof and slip-resistant which will not allow any liquid to go through it. The mat is washable and durable made with EVA material and doesn't hold the urine or feces smell.
---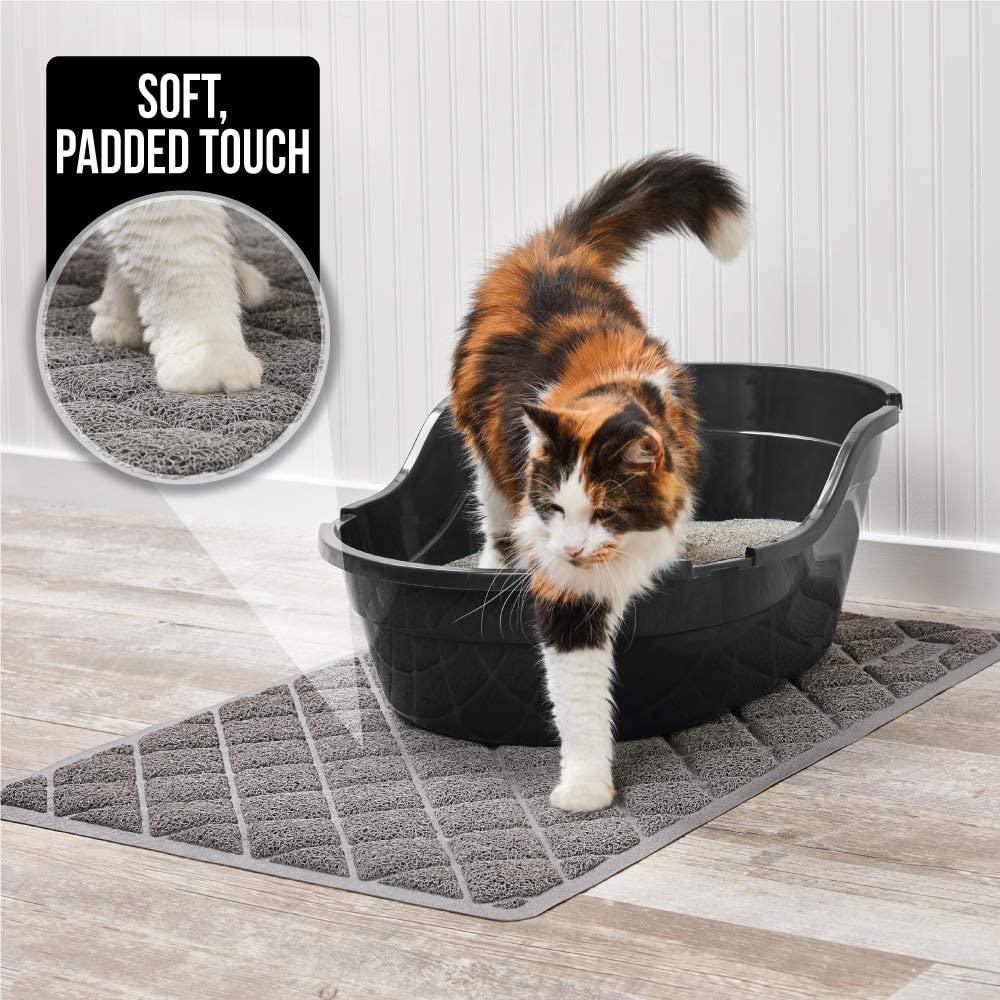 Gorilla Grip Original Premium Durable Cat Litter Mat, Traps Litter from Box and Cats, Scatter Control, Mats Soft on Kitty Paws, Easy Clean Mats

This is the second mat on our list that has deep grooves and excellent mesh on the topside of the mat that helps to keep the mess on the mat and off your floors. It is available on Amazon in 5 different sizes as well in 13 different shades. This mat has been reviewed by more than 26 thousand customers so far with ratings over 4.5/5. The starting price for the smallest size (24"*17") of this mat is $14.99 and for the jumbo size (47"*35") you have to spend $39.99. The mat is washable and highly durable which makes it a great deal to buy.
---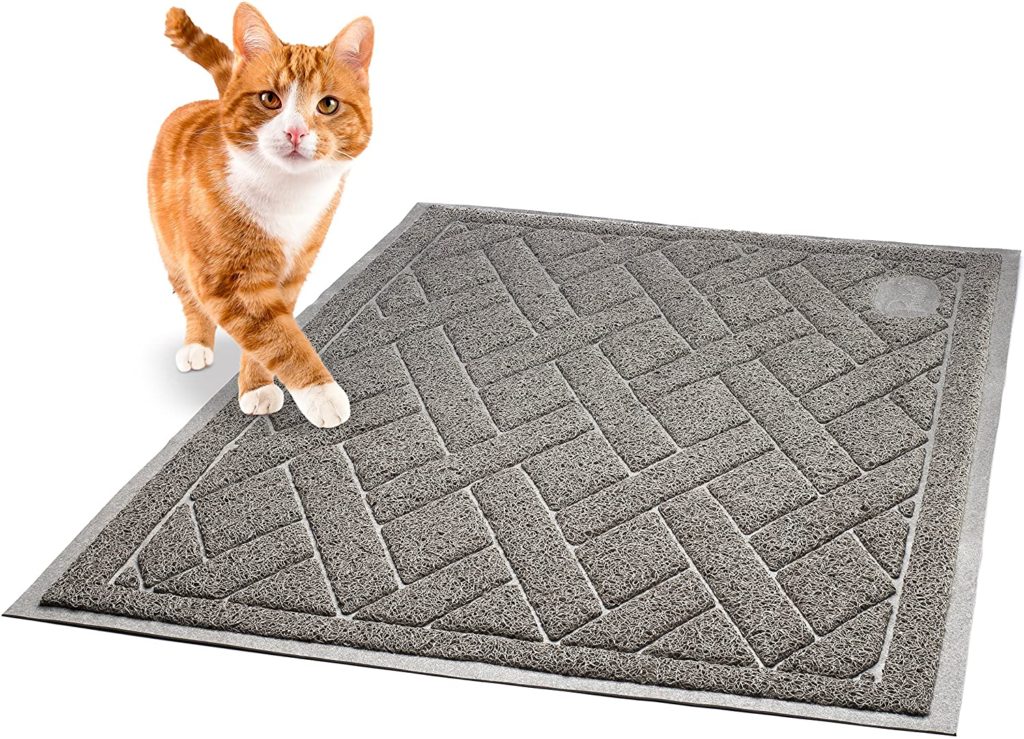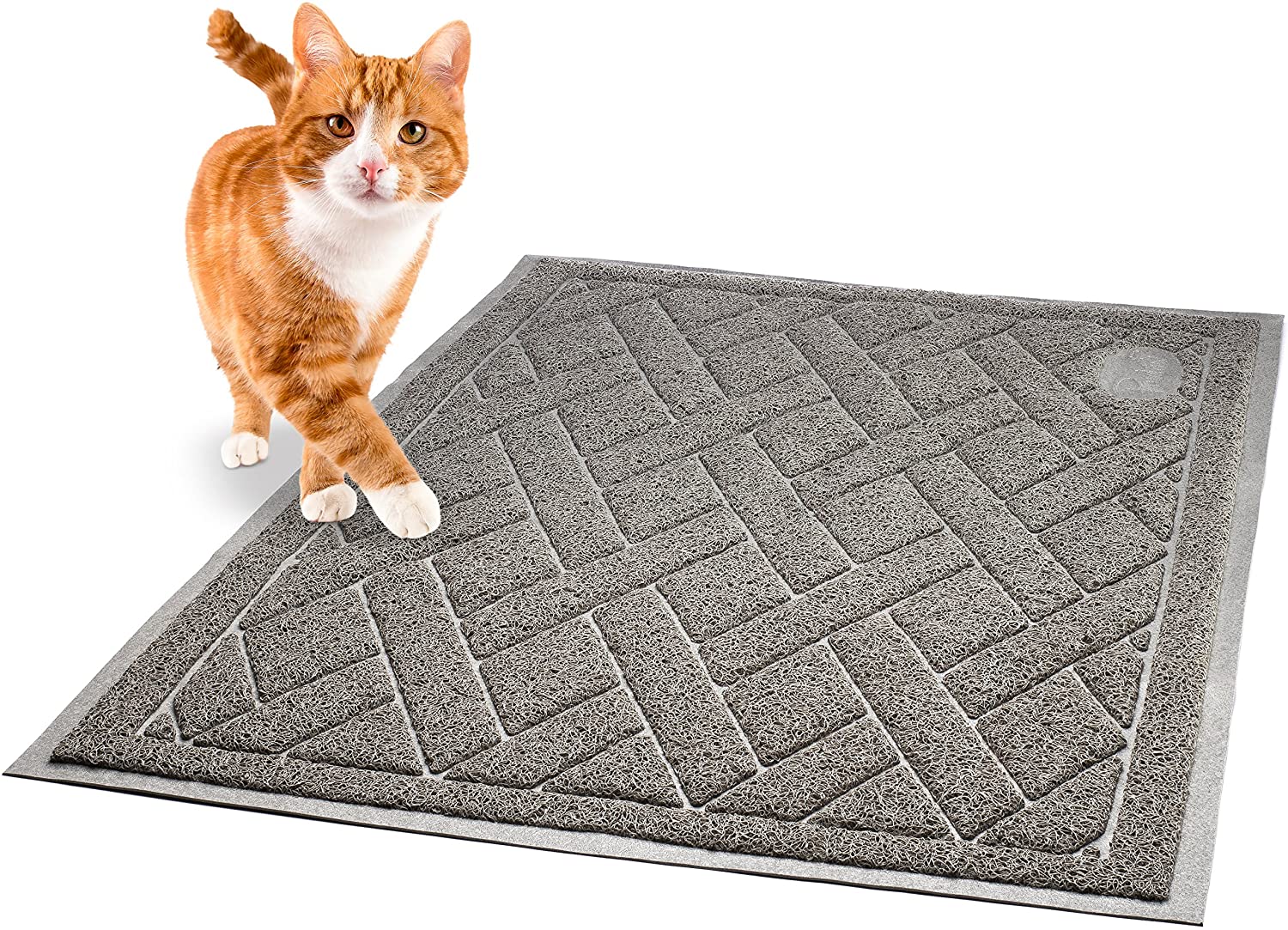 Pawkin Cat Litter Mat, Patented Design with Litter Lock Mesh, Durable, Easy to Clean, Soft, Fits Under Litter Box, Litter Free Floors

A large mat with groves and a tight mess to catch litter and wipe kitty's paws gently. The mat seems durable and has a non-slip backing to keep it in place. It is also available on Amazon in two sizes, Large and XL starting from $19.99 and $37.99 respectively.  The product has got good ratings of 4.6/5 from 577 customers so far.
---

Cat Litter Mat, XL Super Size, Phthalate Free, Easy to Clean, 46×35 Inches, Durable, Soft on Paws, Large Litter Mat

A large litter mat is available in a choice of two colors. The soft fibers will gently clean the kitty's paw without irritating. The mat is tough enough to not tear during washing and it is Phthalate Free as well. The mat has got over 7000 reviews with ratings of 4.6/5 stars. You can purchase it for $22.99 on Amazon.
---

BlackHole Litter Mat Blackhole Cat Litter Mat – Large Size Rectangular 30″ X 23″

This is another fantastic litter mat that comes in six different colors on Amazon. The mat has a scratch-resistant two-layer design that is completely safe. The litter is trapped as it falls through the dual layers. This mat's design makes it easy to clean and empty. This product has got 3362 reviews and the rating stands at 4.5/5. The starting price of this mat is $34.99 and goes up to $39.99 depending upon the choice of color.
---
Also Check:
Cats Holiday Gift Guide
Tips for Brushing Your Cat