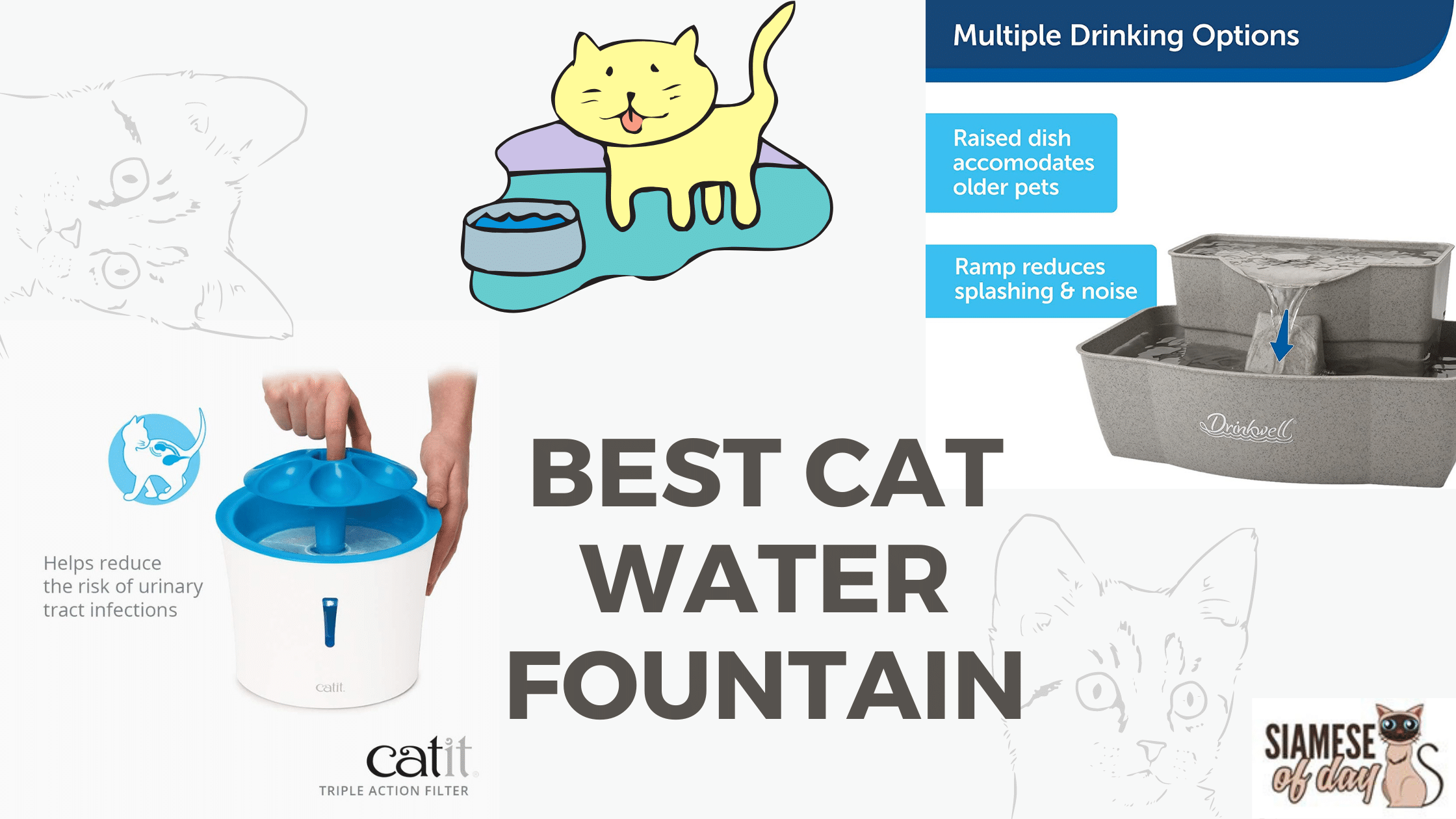 You know how vital it is for your pets to drink adequate water as a pet parent. It helps them stay healthy by keeping them hydrated, preventing urinary infections and renal damage. Cats, on the other hand, aren't always eager to drink from a standard dish, which is where pet water fountains come into play. A drinking fountain should be easy to use, clean, and low-maintenance, in addition to providing your cat with a source of flowing water. We have reviewed few water fountains below and our reviews are based on extensive research and, when possible, hands-on testing.
Why Buy A Cat Water Fountain?
It can be difficult to keep cats hydrated—dry diets and a lack of thirst drive combine to leave cats dehydrated and vulnerable to urinary tract crystals and other issues associated with insufficient water consumption. When you add on the fact that many cats view their water bowls as dirty, stagnant puddles, chronic dehydration becomes almost inevitable. Installing a water fountain for your feline friend is the best way to keep them hydrated. They oxygenate the water, making it taste better than tap water and enticing your cat to drink more. Second, they make your life easier. Instead of having to replenish your cat's water bowl once a day, you'll just have to do so once per week or two. A water fountain keeps your cat's water cleaner, encourages him to drink more, and saves you time cleaning and refilling his water bowl. Drinking water from the toilet or bathroom faucet, as well as playing with streams of fresh water, are signs that your cat would benefit from a pet water fountain. Also, keep in mind that cats who eat dry food benefit the most from pet water fountains. Cats with a high-moisture diet, such as canned food, may acquire all—or nearly all—of the freshwater they require from their food.
We have reviewed few water fountains below and our reviews are based on extensive research and, when possible, hands-on testing.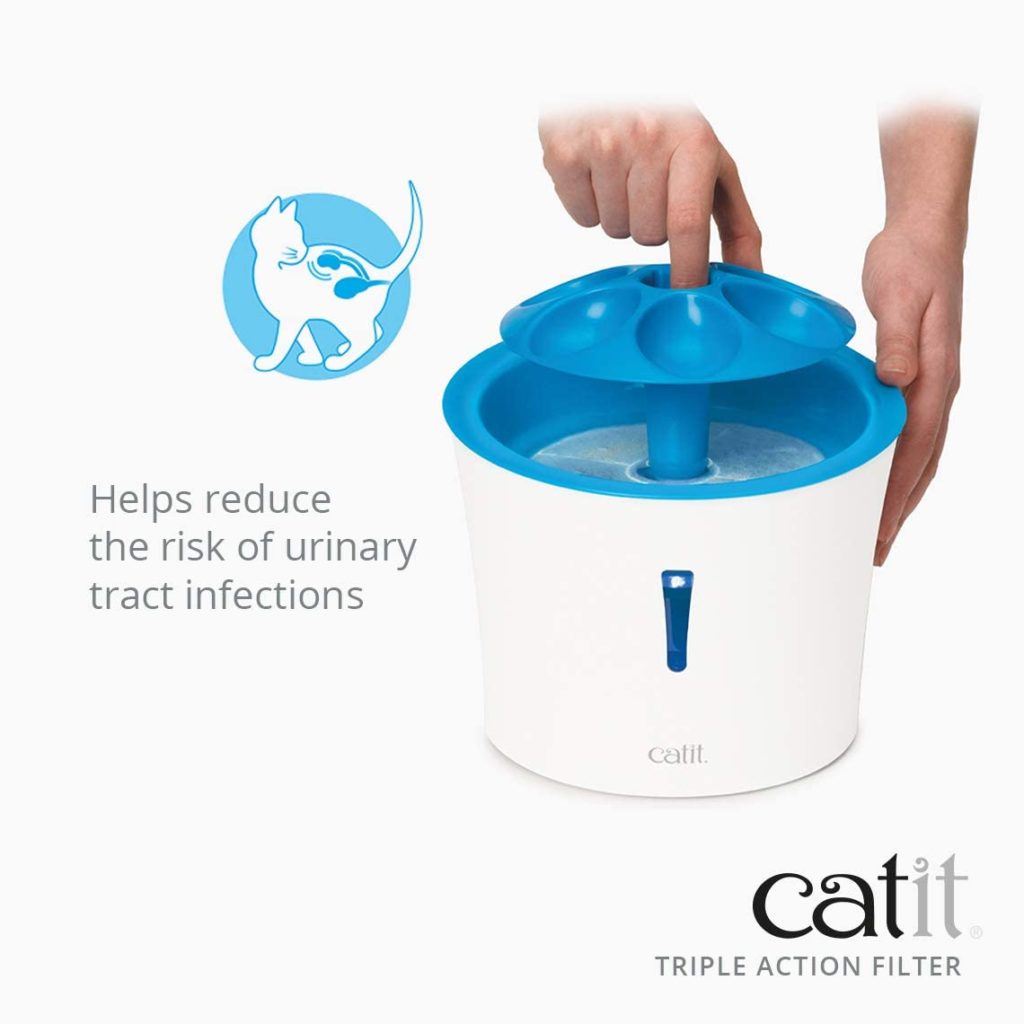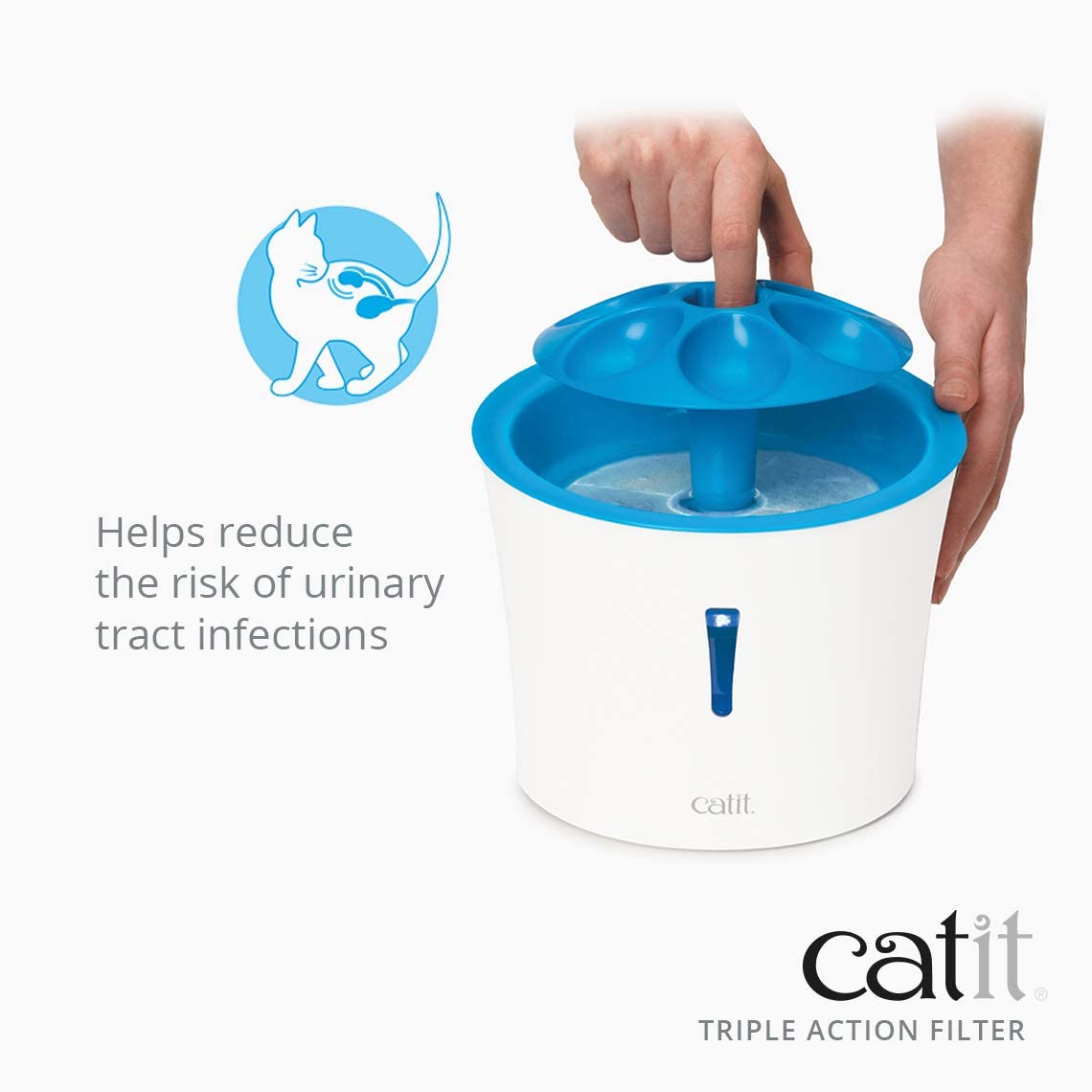 1. Catit Triple Action Cat Water Fountain Filter
This one top the list. To encourage your cat to drink more, the Catit Flower Fountain has three adjustable water flow settings. The water reservoir of the Catit Flower Fountain has a handy water level window. It keeps more clean water and is considerably more stable than other fountains because of its 3 L (100 fl oz) capacity. Because cats are finicky about their water, the Flower Fountain has three settings: a gentle water flow, a bubbling top, and quiet streams. The drinking surface is at a suitable height for your cat's sensitive whiskers and does not put any stress on them. The Catit Flower Fountain, unlike bowls, only pushes filtered, flowing water to the surface. This stops your cat from drinking contaminated water.
Your cat's drinking water is purified in three ways by the filter:
Cotton mesh removes debris.
Odours and contaminants are removed by active carbon.
Tap water is softened with ion exchange resin.
Catit Triple Action filters are guaranteed to purify your cat's drinking water safely and effectively for up to 30 days. It's best to replace the filter once a month, or sooner if it's saturated. The Flower Fountain is composed of BPA-free materials and is simple to disassemble and clean. Every component is freely accessible and cleanable with water and soap. This water fountain has got an excellent rating from customers on Amazon (4.7/5) and is available for only $8.83.
---


2. Veken Pet Fountain, 84oz/2.5L Automatic Cat Water Fountain Dog Water Dispenser with 3 Replacement Filters & 1 Silicone Mat for Cats, Dogs, Multiple Pets
Finding the best approach to care for our pets as pet owners can be difficult, especially when considering affordable solutions. That's where the Veken Pet Fountain comes in handy for pets who want to drink from sources other than their bowls. The Veken Pet Fountain keeps the water going while reducing noise. The Veken pump is ultra-quiet and long-lasting, with a sound level of fewer than 40 decibels. It's also built of high-quality PP resin that's BPA-free and lasts a long time. Even so, cats enjoy rushing water because their strong sense of hearing allows them to detect it. Furthermore, the triple filtration system guarantees that the water is as clean as possible, allowing your pet to stay healthier and hydrated. The Veken Pet Fountain features a 2.5-litre water capacity, making it ideal for small to medium-sized pets. The fountain features three modes, making it simple to select the ideal solution for your pet. The small size means it won't take up too much room. The recirculating system guarantees that the water is properly oxygenated. Small and medium-sized pets will benefit from the 2.5L capacity. It's also simple to set up and maintain, making life easier for both you and your cat. The fountain is reviewed by over 42000 customers on Amazon has got a rating of 4.4 stars out of five. Related Product Review:
Stop Cat Litter Tracking
Petlibro Automatic Cat Feeder and Water Fountain Review
Best Cat Trees (Review)
---


3. Cat Water Fountain Stainless Steel, 81oz/2.4L Pet Water Fountain with Intelligent Pump and LED Indicator for Water Shortage Alert, Cat and Dog Fountain with 3 Filters, 1 Mat and 2 Cleaning Brushes
This is another one on the list that comes with a stainless steel top. The item is durable, hygienic, and dishwasher safe. The fountain comes with 3 carbon filters, 1 foam filter, and 2 cleaning brushes, as well as 1 mat, which is also included. It is made with food-grade material and this BPA-free cat fountain is safe for your feline friend. It has an intelligent pump with a light indicator. The pump works quite low below 40 DB and it will last for around 3 to 4 years. The fountain also has an auto power off the pump for dry running protection. A replacement circular filter, as well as a pre-filter sponge to trap hair and debris, are used in the rotating filtration system to cleanse the water and remove hair, grime, and food particles. 360° multi-directional streams give oxygen and freshness to the water. Instead of motionless water, pets prefer to drink from a source of rushing water. There are three different drinking modes in this water fountain. It just takes a few minutes to set up and disassemble the Wonder Creature pet fountain for cleaning and upkeep. The top is made of high-grade stainless steel, which is unbreakable, long-lasting, and easy to clean. The top is made of stainless steel, which is hygienic, durable, and dishwasher-safe.
---


4. PetSafe Drinkwell Multi-Tier Cat and Dog Drinking Fountain, 100 Ounce Capacity Automatic Water Dispenser for Pets, Fresh Free-Flowing Stream, Easy to Clean Hygienic Durable Material, Filters Included
The PetSafe Multi-Tier Pet Fountain provides your pet friend with fresh, flowing water. Your pet will drink more as a result of the free-falling water stream. There are three spots for your pets to drink from the fountain. It allows you in keeping your pet healthy and hydrated so that you and your pet can enjoy a happy life together. The free-falling stream and several drinking spots encourage your pet to drink more water each day, ensuring that they obtain the proper amount of water to stay healthy and hydrated. Your pet will never have to drink unclean water again thanks to this Multi-Tier pet fountain. The filters remove undesirable tastes and odours, while the regular water movement prevents bacteria growth. The fountain has a 100-OZ capacity which is a perfect size for cats, dogs, and multiple pet households. The fountain's multi-tiered design is ideal for senior or arthritic pets who are unable to lean down to drink. Its removable carbon filter eliminates unpleasant tastes and odours, while the foam filter traps pet hair and debris to keep your cat's water clean. It is easy to clean and you have to simply set it on the top rack of your dishwasher to clean this BPA-free pet fountain (excluding the fountain pump). The product is reviewed by over 12k customers on Amazon and it is available for only $24.95.
What to Look for in a Cat Fountain
Easy to clean
Low noise
Size
Above are our top picks and these are available at the best prices on Amazon. You can buy any of these to make your furry friend happy and hydrated.