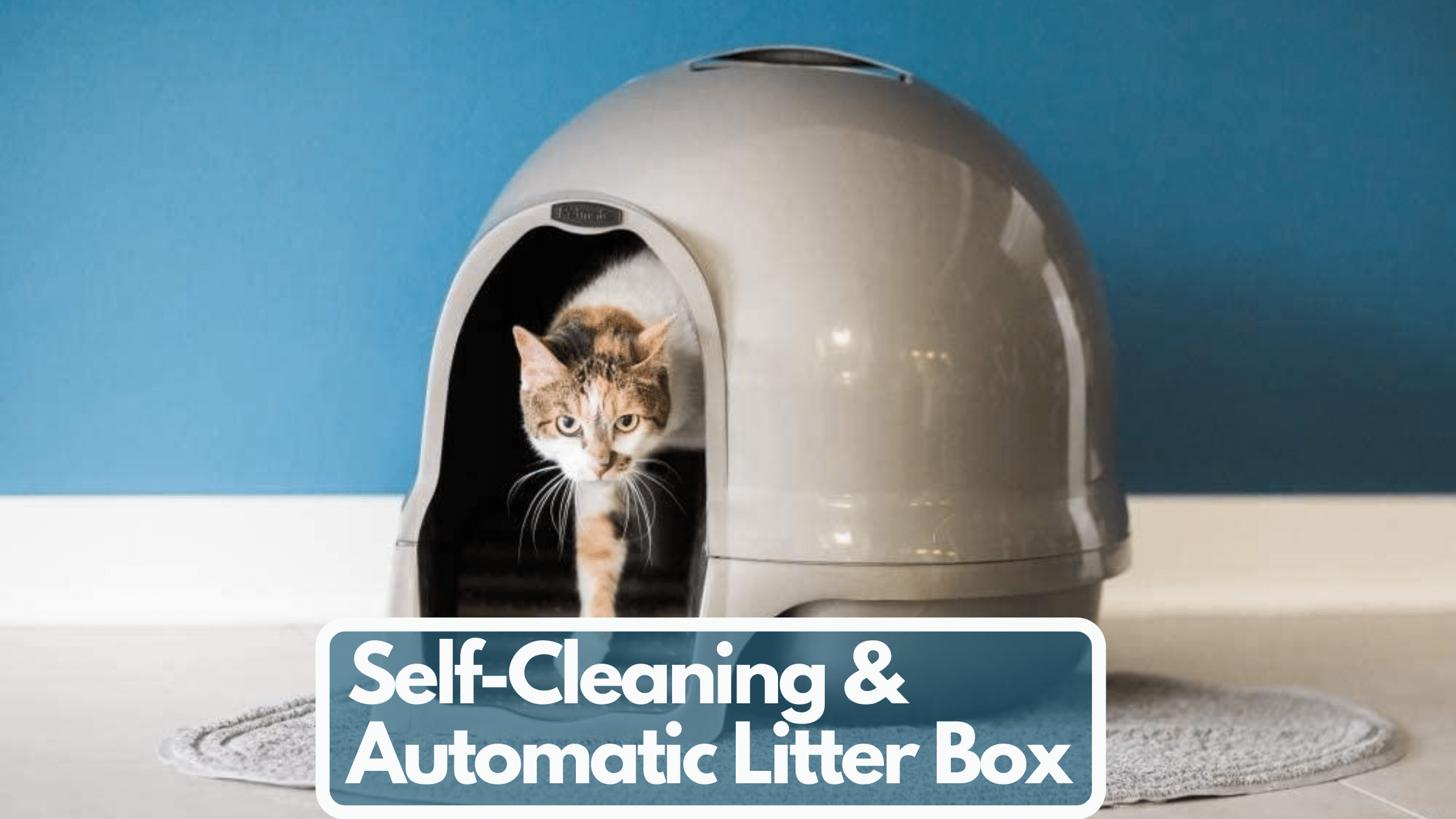 Having a cat at home is really a good thing as these feline partners take away our stress and chill our mood. The only bad part is about cleaning their little box day after day and pet owners hate this job. Fortunately, there are much advanced litter box available today on Amazon that help take some of the messy work out of caring your cat. Here we have listed the tops picks of best cat litter boxes that will ease your search so that you don't have to waste your time by spending hours choosing the right product.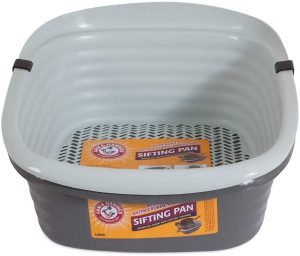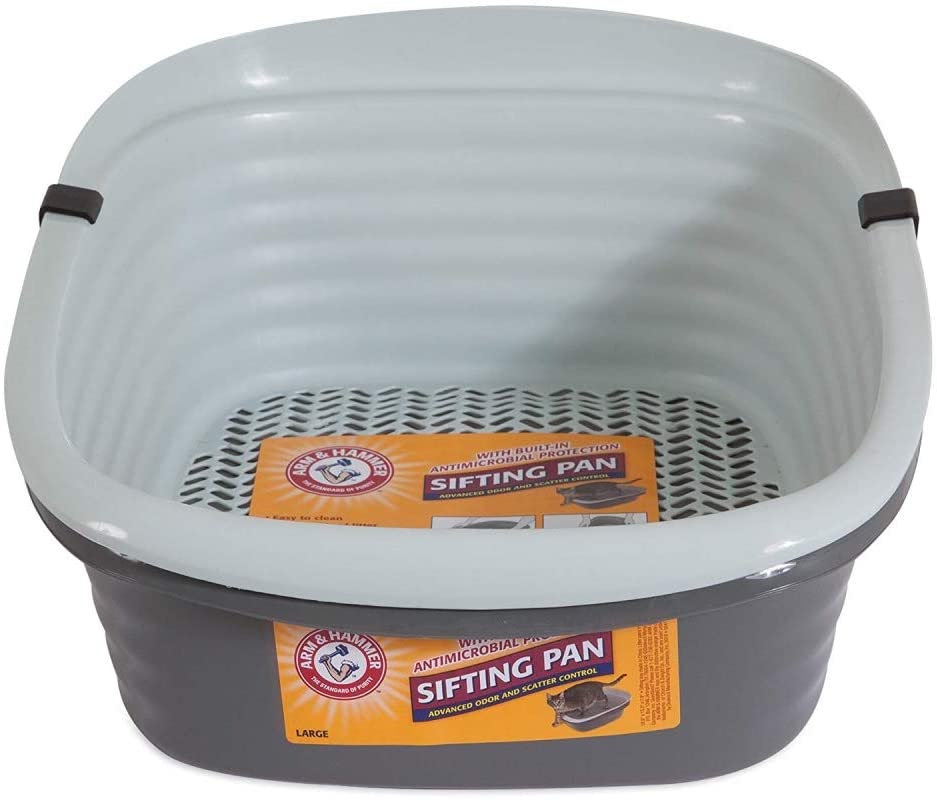 This is one of the best cat litter boxes that provide an easy and efficient way to clean litter. It consist of three pan system that has two regular pans and one sifting pan to separate the soiled litter easily for quick cleaning. This litter box makes it very easy to clean the box. The product is made with antimicrobial protection that removes bad odor.
Pros:
This product comes with antimicrobial protection that removes bad odor.
Patented Sifting Technology makes it very easy to clean the litter.
It is easy to clean.
The product is durable and tested by over 5000 happy customers.
Cons:-
The size is not good for grown cats.
Price is high for the size it comes in.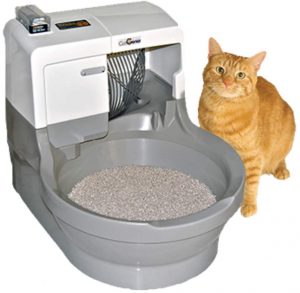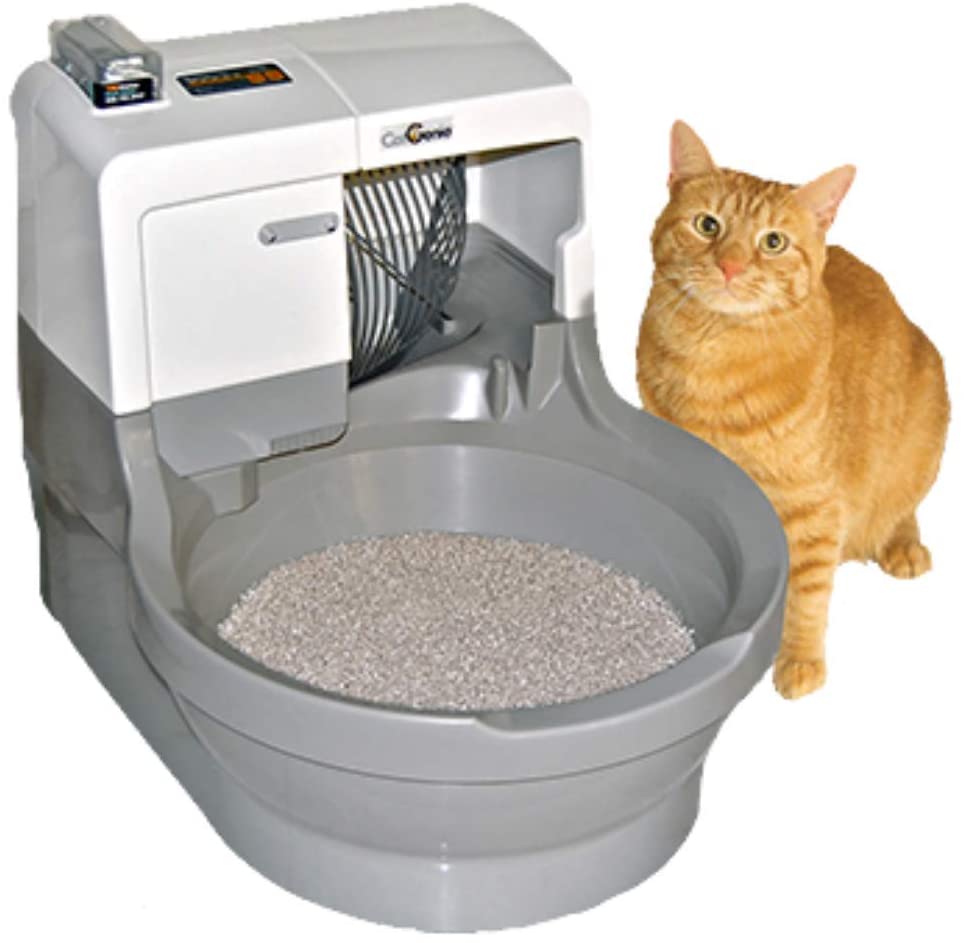 This cat litter box looks similar to a true toilet bowl. This automatic litter box comes with features like flushing the waste itself, washing and even drying itself. All you do is tell CatGenie when to clean itself (choose between automatic or manual modes). This product comes with washable granules and they are dust-free and you don't have to change them change them.
Pros:-
It is a fully automated cat litter box.
It comes with adjustable cleaning program.
This product self clean, self flushes and self dries.
Cons:-
CatGenie little box is expensive.
It requires cold water line and drainage to work.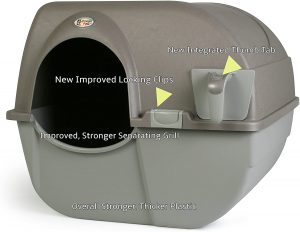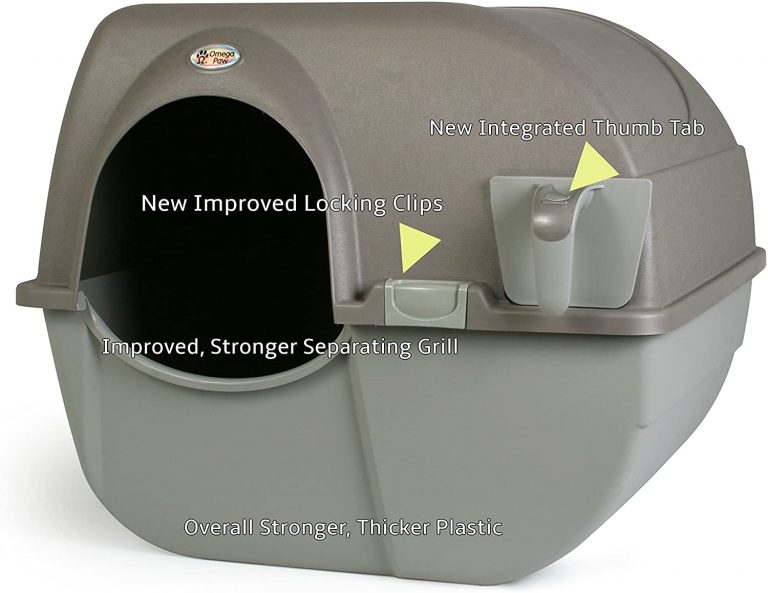 This cat little box is budget friendly but works very efficiently. The box scoops out the clumped waste, depositing it into the pull-out tray. You just have to roll it onto its top and then roll back to the up-right position.  After this you just have to remove the tray to dispose of waste.
Pros:-
This litter box does effective odor control.
It is budget friendly and super simple to use.
The product comes with 1 year manufacturer warranty.
Cons:-
It is not actually an automatic littler box so it require manual handling too.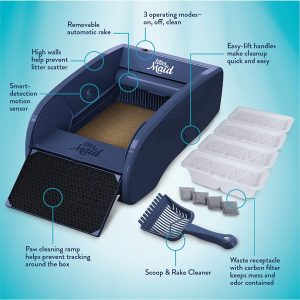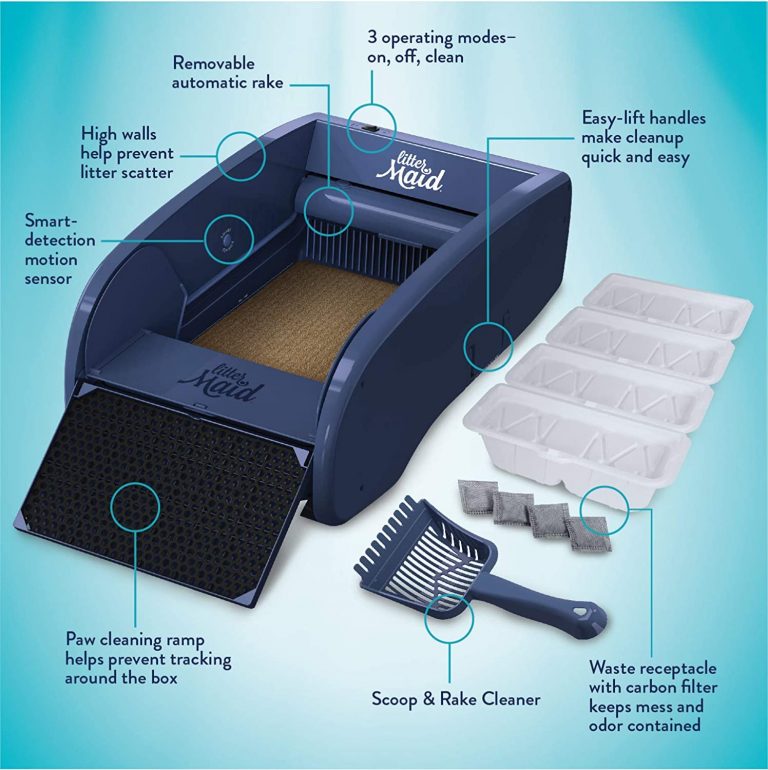 This is one of the best cat litter box that is fully automatic and does the job perfectly. It has an automatic scooping with a rake that removes waste for a clean, fresh start. It prevents the odor nicely, thanks to its high wall design that prevent litter scatter. Pros:-
It requires very low maintenance.
The design prevent litter scatter.
Cons:-
If you have multiple cats at home then this is not the one for you.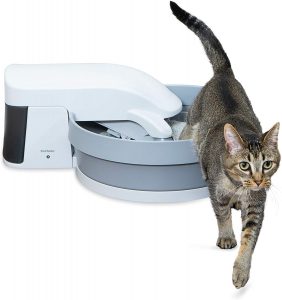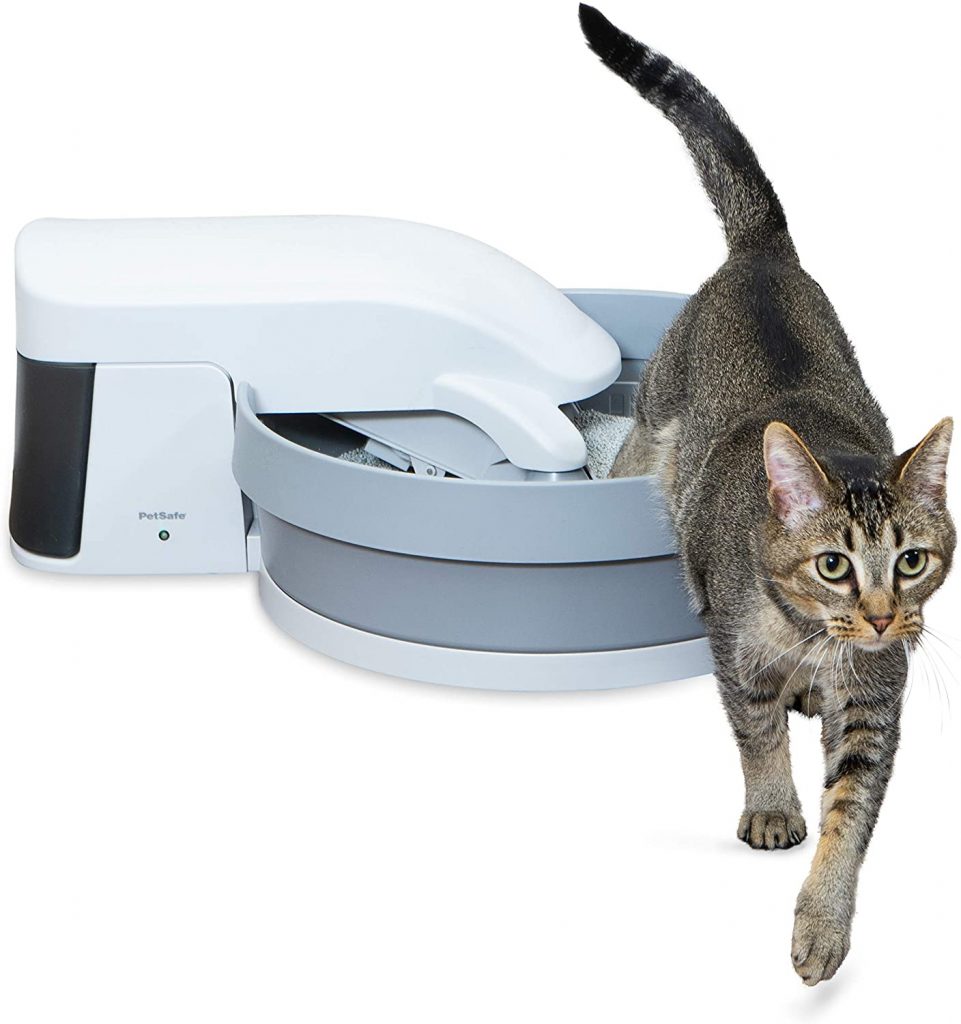 It is one of the finest cat litter box that works really well. The product features a bowl that rotates and sifts waste from the litter through conveyor system where it is dumped into a waste bin. The product also features a replaceable carbon filter that acts as a layer of odor defense. Also the waste bin is covered so you do not have to worry about the bad odor.
Pros:-
This product is inexpensive considering to its functionality.
It does not require any scooping of the litter.
The motor is quiet and will not frighten your cat.
Does not require regular cleaning.
Cons:-
It works only for cats up to 15 pound weight.
The power cord length of this product is just 6 foot.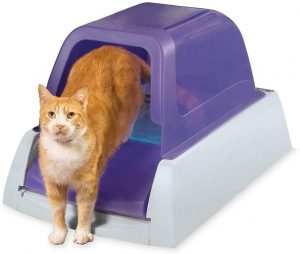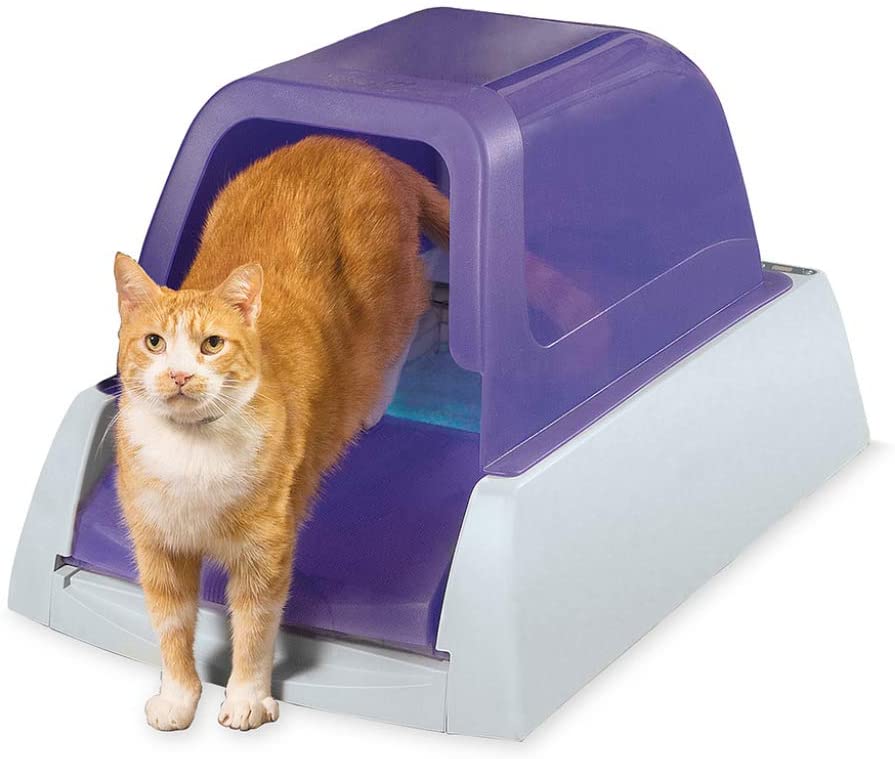 ScoopFree automatic cat litter box is extremely helpful in self cleaning as you have to just plug it and watch it work. The product comes with a sensor and the automatic rake system sweeps waste into the covered compartment 20 minutes after your kitty uses it. You can also track how many times your kitty has used the litter box in a day. It has one privacy hood that will keep the litter in the box trapping its odor too. All you need to do is to replace the disposable litter box after a few weeks.
Pros:-
You don't have to manually scoop poop as it comes with automatic rake system.
Comes with a sensor and tracker to let you know how many times your cat has used it in a day.
The privacy hood is best to keep odor intact.
Cons:-
There are reported cases of the sensor failing to work properly.
It is little expensive.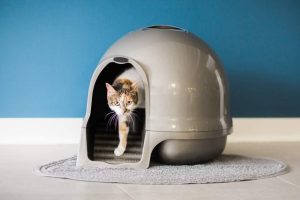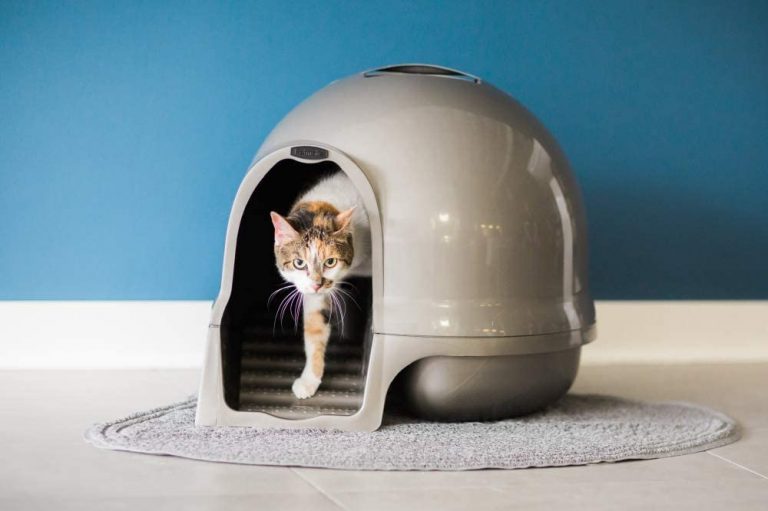 The product features sleek, step design and is enclosed from all sides, ensuring privacy while keeping floors litter-free.  Cat can easily enter inside the hood to use it and it is easy to clean the litter dome. The dome keeps the litter hidden from sight and litter box securely encloses cats for privacy. Also, the litter box has grooved clean step entrance and it easily wipes your kitty's paws as they exit.
Pros:-
The product design is good as it gives privacy to cat and also keep the waste hidden from sight.
The grooved clean step entrance works best for self cleaning of cat's paws.
It keeps the odor away from room environment as it is enclosed from all sides.
The size is nice and big for even a big fat cat of around 30 to 40 pounds.
Cons:-
You have to clean the box manually.
Cat's pee can flow out from edges as reported by some customers.