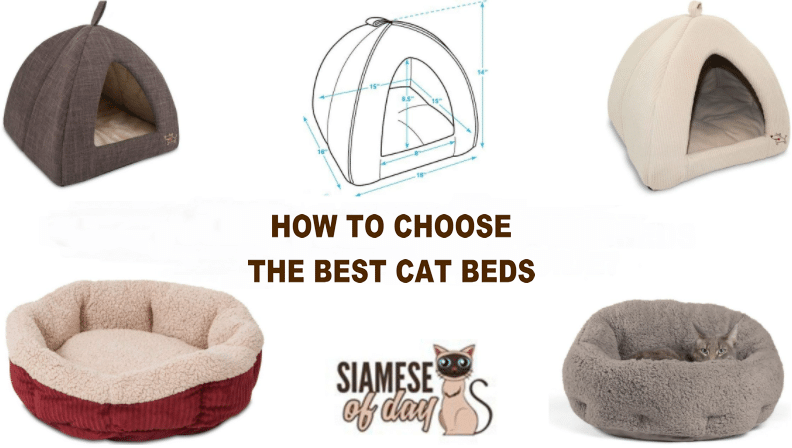 Everyone, even your cats, needs a relaxing and pleasant area to sleep and rest. They want a cat bed where they can feel safe, cozy, receive a good sleep, and be alone whenever they want. They sleep between 15 and 20 hours a day and this is why you must provide them with a good cat bed to rest in. With so many different cat bed designs and styles available in the market, from flat pillows to little boxes to gigantic towers and perches—there are even options with activities for in-between naps. We have done intense research to help you find the best cat beds that will make your feline friend comfortable during her sleep hours. Below we have listed the best cat beds in our cat's beds guide for 2023 to help you make an informed purchasing decision.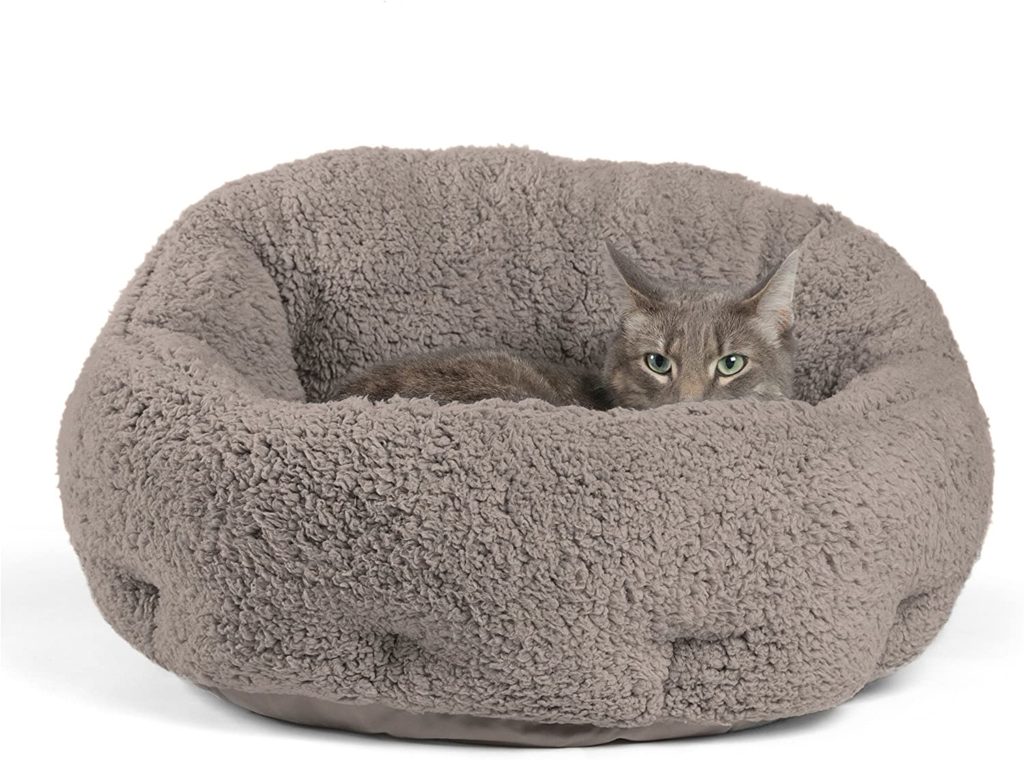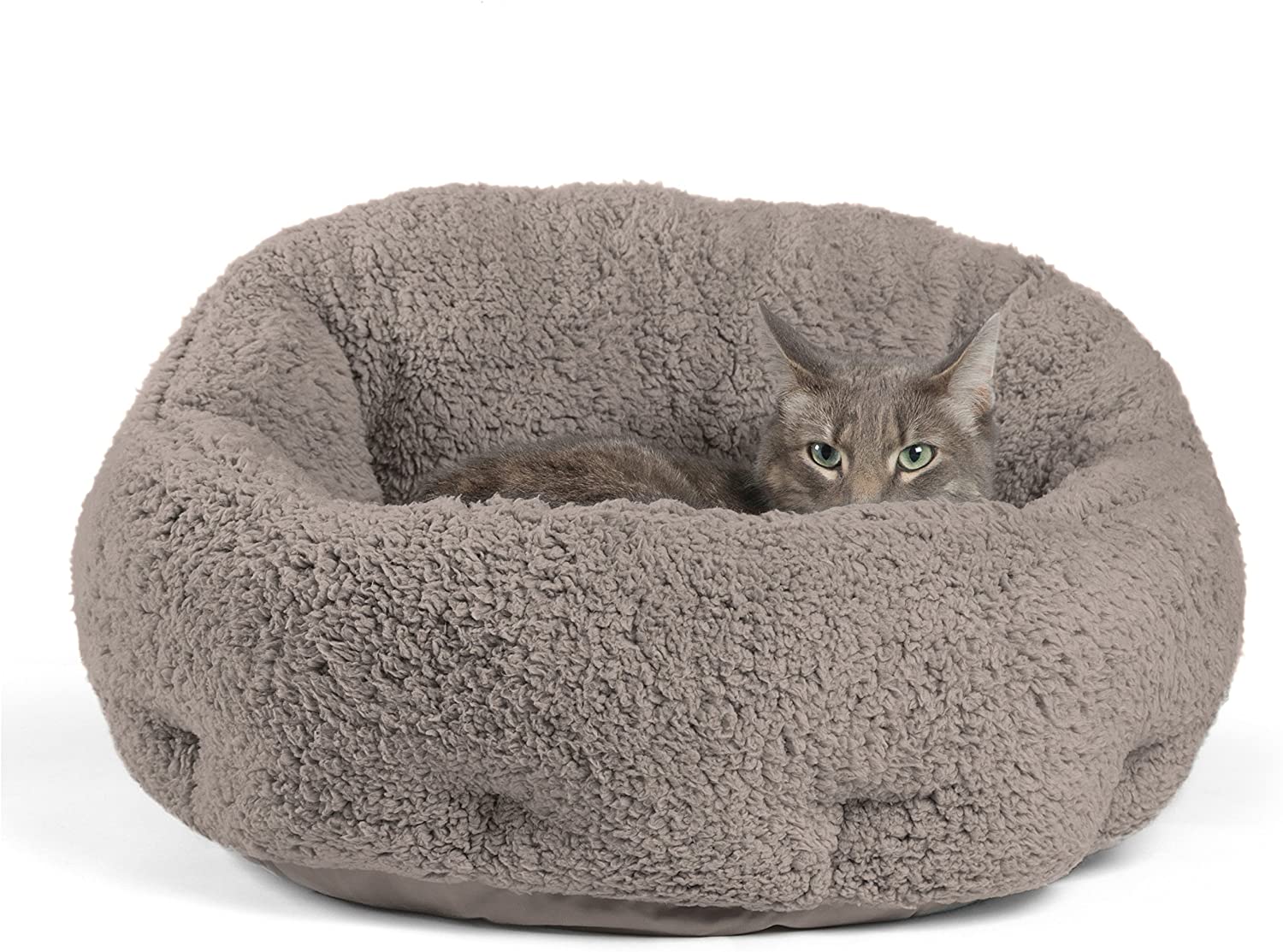 1. Best Friends by Sheri OrthoComfort Deep Dish Cuddler (20x20x12) – Self-Warming Cat and Dog Bed
The Deep Dish Cuddler is a one-of-a-kind bed with high walls that are designed to relieve joint pain and provide a comfortable and secure environment for your pet. The taller back wall gives additional support and relieves joint pressure, while the lower front and side walls create an excellent headrest. It's made of ultra-soft and comfortable sherpa fabric that feels like a mother's fur and promotes deeper sleep. The bed's bottom is made of a durable nylon fabric that resists dirt and water. This product is reviewed by over 12000 customers on Amazon and has got an excellent 4.3 rating. The bed is available in 16 different colors and 4 different sizes. The price begins at $21.44 to $29.99 depending upon your choice of color, fabric, and size.
Features:-
High back wall:- Back wall is 12 inches high, which helps ease joint pressure.
Comfortable headrest:- Lower carved 9″ front and side walls make it comfortable to rest your head.
Comfortable Sherpa fabric:- Sherpa fabric is extremely soft that provides a more restful night's sleep.
Waterproof bottom:- The bed has waterproof nylon bottom
Easy to clean:- The bed is machine washable and dryer safe.
Vast Color option:- The bed is available in 16 color options on Amazon.
---


2. Best Pet Supplies Pet Tent Soft Bed for Dog and Cat
This tent house gives your cat the privacy they need while yet providing them plenty of space to move around. The bed is made with high-quality polyfoam that easily molds to your pet's favorite position every time, providing a soft but strong home for your pet. The size of the bed is good and the tent shape provides a sense of security and privacy without compromising on convenience. The best part is that you can easily assemble and disassemble it which makes it easy to carry anywhere youwant while traveling. This product is reviewed by more than 10000 customers on Amazon with a rating of 4.6 which makes it one of the best cat beds to buy. It is available in 9 different colors and 4 different sizes on Amazon. The starting price is $21.99 and ranges towards $35.99 depending upon the size and color you choose.
Features:-
Design:- Dome shape provides a sense of security and privacy to cats.
Quality:- It is made with polyfoam lining which provides soft support.
Easy to clean:- The bed is machine washable and is easy to clean.
Color and size:- This bed is available in different colors and 4 different sizes.
---


3. Aspen Pet Self Warming Beds
It is a nest-shaped bed that features a Mylar interior layer that reflects pets' body heat to provide comfort and warmth. The non-skid bottom is perfect for tile & hardwood floors. The bed's exterior is made of plush corduroy, and the sleep surface is covered in soft, faux lambswool for added comfort. The bed has a textured, non-slip bottom to keep pets from slipping or sliding in and out. The bed is available on Amazon in 5 different sizes and 3 different styles. It ranges from $19 to $69 depending upon your choice of size and style.
Features:-
A special interior layer reflects your pet's body heat.
Choice of several sizes and styles.
Machine washable.'
---


4. K&H Pet Products Heated Thermo-Kitty Mat Reversible Cat Bed
The K&H Thermo-Kitty Mat is a low-cost heated sleeping mat with a dual thermostat heater hidden in soft foam to provide a cozy spot for cats to sleep. When not in use by the pet, the surface temperature of the K&H Thermo-Kitty Mat will maintain 10-15 degrees above ambient air temperature. This product has been reviewed by 5000 customers so far and is rated 4.4/5 on Amazon. The product is available in two colors for $25.35 and $31.99.
Features:-
Dual thermostat control.
Soft foam pad in plush cover for comfortable napping.
Easy to clean.
---
Things to consider while choosing the cats bed
Size
Always choose the correct size of bed for your furry friend. It should not be too small which makes it uncomfortable to sleep and relax. Also, it should not be so large that it is not cozy.
Heating
Most modern cat beds include heating systems that use either a microwave or electricity to heat them. These are advantageous because the pet loves to be in a warm place. Heated beds are also helpful for cats who suffer from arthritis. There are beds available that are specifically intended for this purpose.
Comfort
It is a good idea to provide your pet with a comfortable home rather than just a box. Although your cat does not need to sleep in a luxurious environment, you should make sure the bed is comfortable.
Clean
Consider cat beds with removable outer covers that allow you to wash any parts that come into contact with your kitty. Regular cleaning helps in the reduction of odours and the spread of bacteria.
Bed shape
Some cats prefer to sleep in sheltered areas. Your cat, for example, may spend the majority of the day hiding under furniture. In this case, a cave-style bed is a good choice. These beds will provide some shelter for your cat, allowing him to sleep in a den-like structure. See also: Tips for Stop Cat Litter Tracking and Scattering Tips for Brushing Your Cat and Why You Should Conscious Cat 2020 Holiday Gift Guide
Does Your Kitty Need a Cat Bed?
Cats sleep twice as much as humans, and kittens sleep even more.  Cat beds, fortunately, are a terrific option for cat owners who want to ensure that their feline companion gets the finest sleep possible. Cats, like humans, require adequate rest, and disturbed or insufficient sleep can be harmful to your cat's health. Cat beds are a great gift that you can give to your feline friend. Cat bed provides the great comfort and relaxation cats need for sound sleep. Also if you have a cat bed at home then it ensures that your cat does not sleep anywhere in the housekeeping their hair and dander away off your furniture and other places.