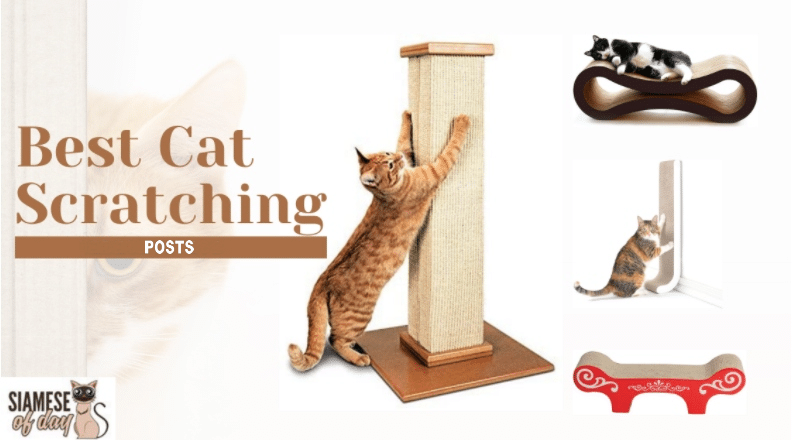 Selecting the best cat scratching post might be a difficult task. There is usually a large price tag, and there is no assurance that your cat will appreciate it after you get it home and set it up. That's why we combed the internet for the most popular scratching posts that have been well-received and rated by cats all across the world. This way, you can be sure you're getting a long-lasting item that your cat won't mind sinking their claws into! Of course, just because other cats like it doesn't guarantee yours will – so we attempted to add as much information as possible because it's far more likely that you'll find something right for your home when you're making an informed decision! You know your cat, and you probably already have a good sense of what they like. After all, cats enjoy scratching posts, so pick one that matches your budget and looks well in your home.
---
SmartCat Pioneer Pet Ultimate Scratching Post
The popular SmartCat Ultimate Scratching Post is 16 x 16 x 32 inches, giving your cat plenty of room to stretch vertically while caring for their nails and scratching instinct. It has the same square design as the Amazon Basics model. It's a step up in terms of quality, and it also looks a little nicer. Although either of these two would be a terrific pick, we have to give CatSmart the edge here. This SmartCat model differs from the AmazonBasics model in that it is made of sisal fiber rather than jute fiber. Even the largest of cats can scratch to their heart's content while fully extended on this four-sided post. This scratching post also has a wide base that keeps it from tipping over and is very simple to put together. This post is adored by pet parents and kitties around, with over 20,000 great Amazon reviews. This is better than posts with carpet that can get nails stuck in them. For assembly, only two screws are required. The SmartCat is a bargain and our favorite cat scratching post. This basic but surprisingly strong scratching post will be a hit with your cat. Cats may stretch themselves out and claw at the sisal fabric since it's tall enough. This post is extremely long-lasting and well-designed; expect it to last for several years. This post is available on Amazon for $49.99 and it is available in two different colors.
Pros:-
The elegant design and smooth wooden base make it look more like a piece of furniture than a scratching post for cats!
It is easy to assemble and durable that will last long.
The tall height. It's ideal for larger cat breeds who can't fully stretch out while scratching on regular scratching posts.
Your cat will get a lot of use out of its new scratching post because it's completely covered in sisal rope.
Cons:-
Durable materials mean an increased cost.
---
PetFusion Ultimate Cat Scratcher Lounge (Available in 3 Colors). Scratch, Play, & Perch! Superior Cardboard & Construction, Significantly Outlasts Cheaper Alternatives. 1 Year Warranty
Are you tired of buying cat products that your feline companions quickly bored of? PetFusion's Cat Scratcher Couch is a scratcher and a lounge in one, and it'll keep your finicky feline buddies coming back for more. It is specially made for cats who enjoy scratching, playing, and lounging around. Cats are natural scratchers and enjoy the feel of cardboard, which reminds them of their days as kittens. PetFusion's Cat Scratcher Lounge offers your cats a comfortable place to rest and scratch at the same time. Designed for owners looking to reclaim their homes. Finally, a pet product with a fashionable style that blends nicely with your existing décor. Instead of scratching your furniture, your cats will gladly scratch the less expensive and more comfortable cardboard. It's a win-win situation for everyone. Guaranteed happier cat and owner. There is no need for assembling. No assembly is required. All materials tested using international safety standards as the company claims. It is made of recycled cardboard, non-toxic corn starch glue. It comes in an attractive design and neutral colors. Recommended to save your furniture as cats prefer the feel of cardboard. Its curvy style makes scratching easier& a more comfortable place to rest & play. Its design naturally attracts cats. This product got over 14,000 reviews from Amazon customers and is available in 3 different colors for the price of $49.99.
Pros:-
Stylish design- This product has a nice design that allows your cat to scratch and lounge at the same time.
The scratchpad is also reversible so your cat can choose between two different configurations.
Cons:-
This cost is a bit higher than you might have spent on a scratching post before
---
4CLAWS Wall Mounted Scratching Post 26″ (White) – BASICS Collection Cat Scratcher, 26 x 5.7 x 5.5 in
The Scratching Post is wall mountable and sturdy enough for your cat to scratch and stretches while resting its weight on it. The hooks are attached to a clean vertical surface, such as a cupboard or a wall, with adhesive pads that are simple to install. The scratching post stands 26 inches tall, giving for a comfortable vertical scratching position. By giving your cats a better place to sink their claws in, you can protect your walls, door frames, and other vertical furniture while also saving money. The Scratching Post is made to satisfy your cat's natural instinctive want to scratch and stretch. This product has been reviewed by 1200 customers on amazon with good ratings of 4.2 stars and it is available for just $34.99.
Pros:-
This design is as modern as it gets.
Tall vertical surface accommodates vertical scratching and stretching, wall mountable for extra sturdiness.
Cons:-
If drilling into your wall isn't something you want to do, this may not be the right scratching post for you.
---
Catit Cat Scratcher Boards with Catnip
The Catit Style Cat Scratch Board, Cat Bench is a new take on traditional cat scratchers, combining contemporary shapes with stylish patterns. The cat scratcher cardboard provides a corrugated scratching surface for your cat, as well as a new scratching surface for your cat to use instead of your furniture. Its corrugated scratching surface encourages instinctual cat behavior including cat scratching, stretching, and spreading their scent. This product is the cheapest cat scratcher available for just $8.99 on Amazon and it is available in 4 unique patterned shapes. The product got over 23,000 positive ratings that stand at 4.6/5.
Pros:-
It is the cheapest cat scratcher available on Amazon.
Rather than a scratcher that's parallel with the floor, this scratcher has a nice incline.
Cons:-
Not much durable.
It is not suitable for larger cats.
The final line is that you should do your best to find the best for your cat and allow them to get the satisfaction they desire.
Related:
Prevent Siamese Cats From Scratching Furniture Best Cat Water Fountain (We Tested Them All) Pet Water Fountain Review