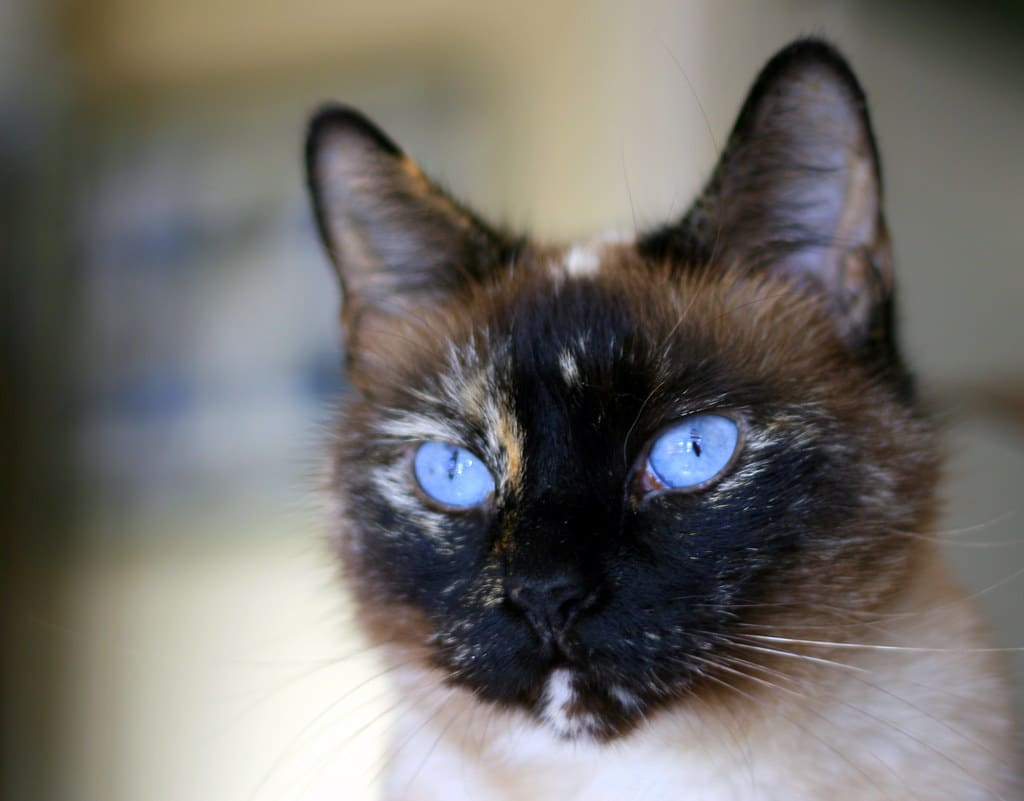 Siamese cats are best for their beauty, elegancy, deep blue eyes, character, and seal points on their body. There are number of varieties in the Siamese breed and Tortie point Siamese is also one of them.
Yes, you heard it right, there is a Siamese breed known as Tortie point. Most of us have only heard about chocolate, blue, lilac, and even flame points but there is also a Tortie point Siamese.
This breed of Siamese cat was not recognized as a pure breed of Siamese until 1966 but later they were recognized as one of a Siamese variety. A tortie (from tortoiseshell) point Siamese is a cat that has flecked or mottled points instead of solid ones, resembling the shell of a tortoise.
The Tortie cats are a mix of black and red color Siamese. They were bred the same way the Red Point Siamese was bred.
What do Tortie Point Siamese Cats Look Like?
Unlike other Siamese cat varieties, Tortie's point has a distinctive mottled pattern to its colored areas. You will find that the traditional Siamese has a solid coloration in the area where the fur is a different color from the rest of the body.
In Tortie point Siamese cat you will notice they have a tortoise shell-like pattern in those areas. Ike other Siamese breeds they also have deep blue eyes, triangular-shaped ears, and a long pointed tail.
They also have color points in their muzzles, ears, paws, and lower legs, tails, and (in males) scrota. Like other Siamese cats, they are also very beautiful and share same character as them.
Tortie point Siamese kittens are also born white and they develop points in their body fur later after few months of their birth. The points appear in their colder parts of their body.
Personality of Tortie point Siamese Cats
Like other Siamese cats, Tortie point Siamese are also shares the same behavior since they all got the same gene in them.  They are very vocal, affectionate, active, demanding, and playful cats.
Vocal
Like other Siamese breeds, they are also very vocal. They speak with a raspy voice and you will find their voice like a crying baby. They love talking to their owner and people around them whom they trust. The aim of their communication is to show affection.
Affectionate
 These cats are very affectionate pets. They are precocious, gregarious, intelligent, and outgoing. They love hang around with their owners and people they love. These cats love to follow the family members around the home and will poke their nose into the task they will do. The sad point is that they easily get depressed when they are left alone.

Active
Tortie point Siamese are as active as other Siamese cats. They love to play with toys and you will notice them climbing to the shelves and enjoying themselves. They are very energetic and have a high energy level. When taken outside to play with balls, these cats will fetch the ball that is thrown.
Demanding
They are very demanding and also attention seekers. It is noticed that these cats have the ability to communicate needs through vocalizations.
Tortie point Siamese Health
These cats are generally healthy and they can live up to 12 to 15 years. They have short hairs and have a very fine silky coat that can be easily maintained with weekly combing and bathing.
They shed very low as compared to other cat breeds as they have short hair. For their better growth, it is compulsory to give them proper nutrition and diet. They are not known for any specific genetic diseases.
Siamese cats are prone to genetic eye problem which leads to progressive blindness. It is noticed in some rare cases that they may get lung diseases when they get older. In most cases, you will find healthy if they are kept with proper care.
How to take care of Tortie Point Siamese cat
These cats love to get attention and can easily get depressed if left alone. This makes it compulsory for the owners to shower love on them and spend time playing with them at home.
You must brush their coat once to twice a week. Brushing will help you remove dead hair and distribute skin oils. You can brush their teeth once in week to keep their dental health perfect and prevent any periodontal disease and to maintain dental hygiene. They are very intelligent and you can train them for several playful activities.
Grooming Your Torties Siamese Cat
As the breed has short hair, they requires very little in the way of grooming.
Finger Brush Your Cat
It is important to properly brush your Siamese cat as it can actually damage the color and texture of a Siamese cat's coat. You can finger brush your cat to get rid of loose hair. Just wet your hands and then run them smoothly over the Siamese cat's coat.
Siamese Cats Rarely Need Baths
Like humans, cats also need bathing as they get dirty so often. This way you can remove can dirt from their coat and it will also prevent the dander to grow on their skin. Weekly bath is perfect for Tortie Siamese cat.
Give Special Attention to Ears
These cats have very beautiful triangular-shaped ears. If you would like to enhance their width, try trimming away the longer hairs just inside the baseline. This will also better air circulation and will also give the illusion of greater width.
Torties – Love Them or Hate Them
These cats must be loved without any hate for any reason. They make a perfect pet to have at home and are a very lovely companion. They are of character for owners who like the unpredictable and enjoy adventure.
These cats are stunningly attractive but sometimes the markings can create a detrimental optical illusion in the shape of the face. It requires a lot of effort to breed a perfect tortie point Siamese cat. They usually do look different from other Siamese colors.
They are stylish and unique. They are never boring as they have a very energetic and active character. If you are the person who loves to play with cats and can spend a few hours a day with them then you will definitely enjoy their company.