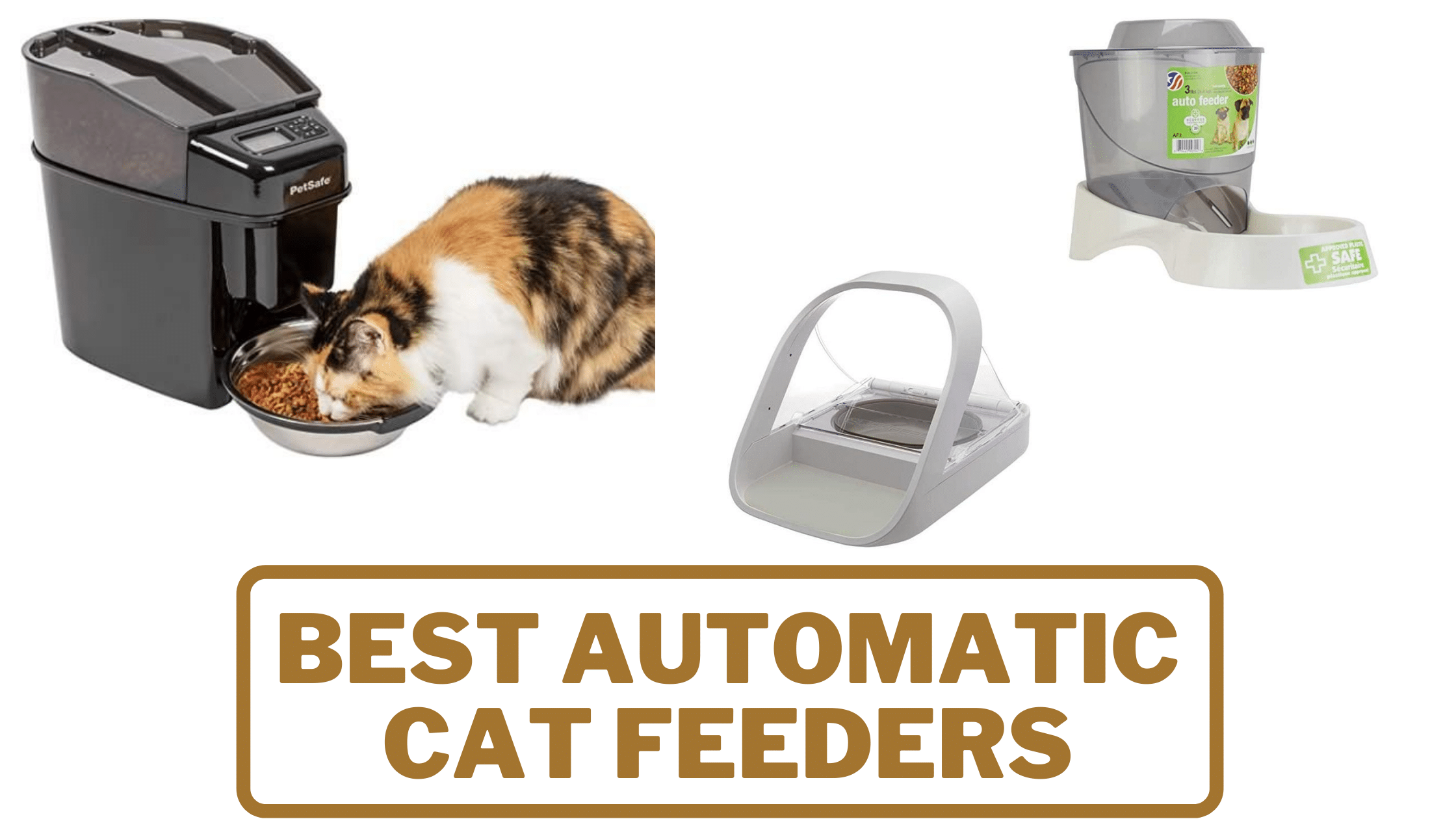 Cats are best companions to have as research has proven that they can significantly reduce stress and anxiety in humans. One of the most significant benefits is children who grow up with cats get less sick. When we have a cat at home then it is important for us to provide the best nutrition to her as it is an important aspect of pet ownership. Before you go and buy the automatic cat feeder for your cat, you should have a look at the best automatic cat feeders of 2024. We have reviewed them all in detail and you can know both the pros and cons of each here. With the right automatic cat feeder, you won't have to worry if your pet has gotten their meal. Here based on Amazon reviews we have listed the best of the best automatic feeder for cats and how well they performed in testing, cost, and other considerations.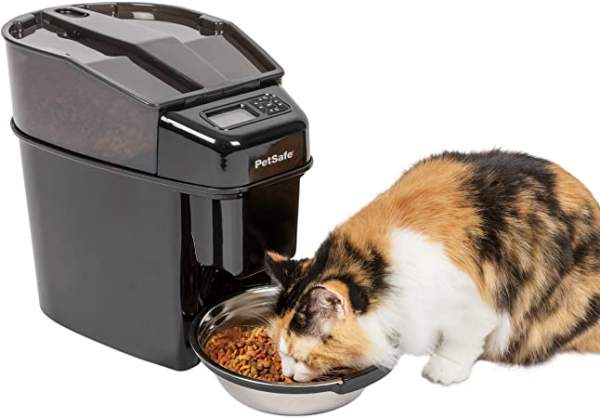 Capacity: 24 cups
Meals: Up to 12
Power source: Battery/adapter
This cat feeder is one of the best automatic cat feeders available on Amazon. It is very convenient, stress way to feed your pet and will ease your life. Having it at your home, you won't have to worry about the cat's diet as you cat gets fed on time whether you are asleep, at work, or away. It hold up to 24 cups of kibble at a time, as well as its ease of programming, this automatic cat feeder is one that will keep your feline companion's belly feeling nice and full. You can schedule up to 12 meals per day for your cat and with portions from 1/8 cup up to 4 cups, and it boasts an easy-to-read LCD screen. The best part is you can store both dry as well as semi-moist cat food on it.  You can this on amazon for around $99.99 and its worth for this price as already around 3100 people have reviewed 4.3 stars to this product. Pros:-
You can schedule up to 12 daily meals on it.
Adjustable portion sizes.
It has slow feed mode
Cons:- Power supply sold separately.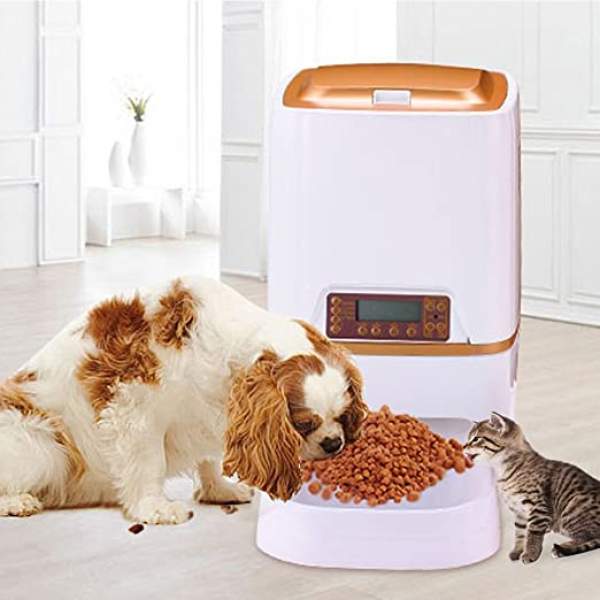 Capacity: 25 cups
Meals: Up to 4
Power source: Battery/USB
This cat feeder comes with a large capacity hopper which holds a whopping 25 cups and portioning system from 10 to 400+grams per meal. You easily program this unit which makes feeding hassle free for pets' dietary health & wellbeing. The other fantastic thing about this unit is that pet owners can record a voice message of up to 10 second for their kitty. At the time of the meal this message will play as a signal to your cat. The other best part is that it is equipped with infrared sensor which senses the food before dispensing it. If it senses the food in the bowl then it will skip the programmed mealtime.  This makes it possible that food is not wasted and stays as fresh as possible. The other best thing about it is that the bowl and hopper are removable for easy cleaning. Pros:- The product has voice recording feature. It has infrared sensor. Ultra Low power consumption Cons:- Battery Operated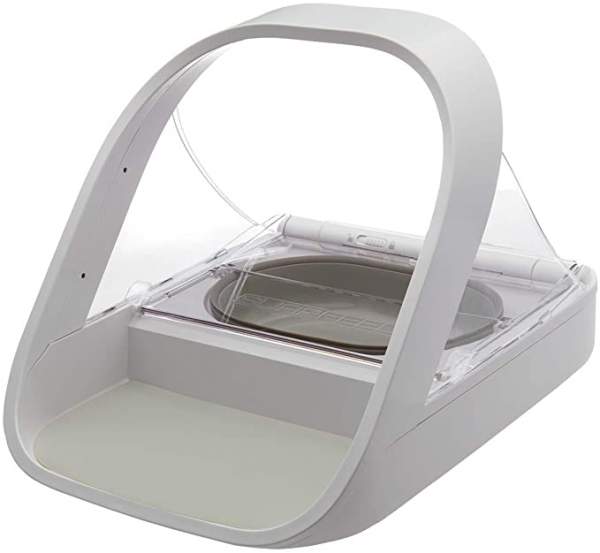 Capacity: 5 cups
Meals: 1
Power source: Battery
The unit is best for those pet owners who have extra special kitty and require a prescribed diet or is on weight management program. This automatic cat feeder is best for those who have a multi-cat home where one feline requires a special diet or medication. It is actually a microchip pet feeder that makes feeding times so much easy. It uses the cat's Microchip ID and only dispenses the food to the correct cat when you have two or more cat at home. This unit can store up to 32 microchip identifications which make it really special. Unit is ideal for serving up wet food without drying out. It comes with three year warranty and has been reviewed 4.5 stars by 4200 customers on Amazon. It holds 13.5 fl. oz, wet or dry pet food and bowl capacity is 400 ml or two pouches of wet food. Pros:–
RFID-controlled
Sealed lid prevents tampering
Cons:-
Can't feed multiple meals
PetSafe Eatwell 5-Meal Automatic Pet Feeder
Capacity: 1 cup/chamber (5 cups total)
Meals: Up to 5
Power source: Battery
Pet owners who want an affordable automatic feeder for their cat can have a look at this amazing unit. It five chambers and can hold 5 meals at a time. This unit is easy to operate and you just have to fill its chamber with food. It will deliver a perfect portioned bowl of kibble at the scheduled time. Pros:-
Easy to use, compact and light weight design
Sealed compartments
Dishwasher-safe
Budget-friendly
Cons:-
Daily filling required
One compartment always available
Battery powered only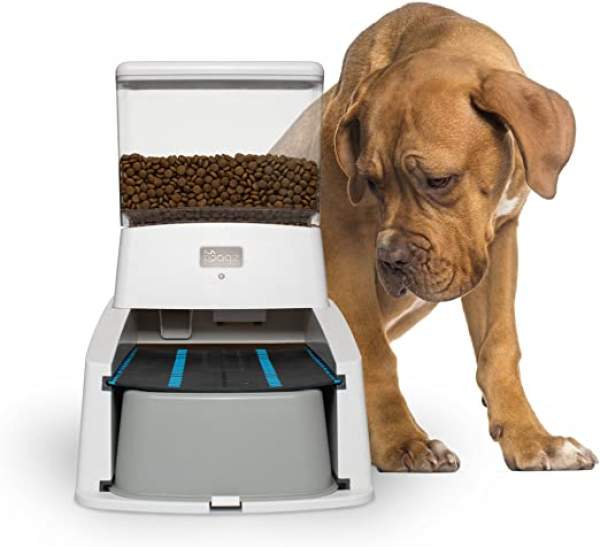 Capacity: 19 cups
Meals: Unlimited (up to 4 cups at a time)
Power source: Battery/adapter
This feeder is best for feeding feline friends on time. This unit use smart collar system through which it dispenses meals according to the programmed serving for multiple pets. Here you can set lighter serving to your fatty cat while higher serving to your skinny kitty. The other best thing on this unit is one way audio and built in HD video camera. With this unit you can see if your pet is eating properly when you are away and at the same time you can interact with them. The unit is also compatible with Amazon Alexa for voice control and monitoring. Pros:-
It has video alerts.
The unit has multi pet management.
Also this cat feeder has one way audio system.
Cons:- This unit is expensive.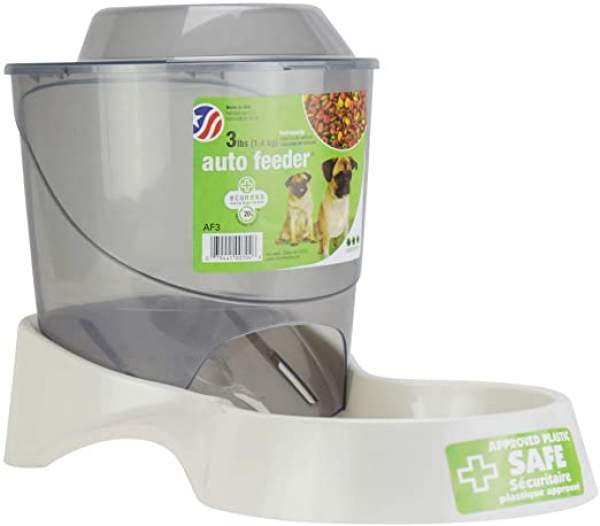 Capacity: Approximately 15 cups
Meals: N/A
Power source: N/A
This is a gravity style feeder that comes at a very affordable price. The unit can provide you the convenience of an automatic feeder in an affordable and easy-to-use package. This automatic feeder for cat can hold approximately 15 cups of cat feed and has been rated 4.4 stars on Amazon by 3500 people. Van ness auto feeder is easy to clean and it is dish washer safe. Also it does not run on battery or electricity and that saves a lot of money. Pros:-
Easy to use
Does not use battery or electricity
Affordable
Cons:- It does not have addition features like audio or video talks.