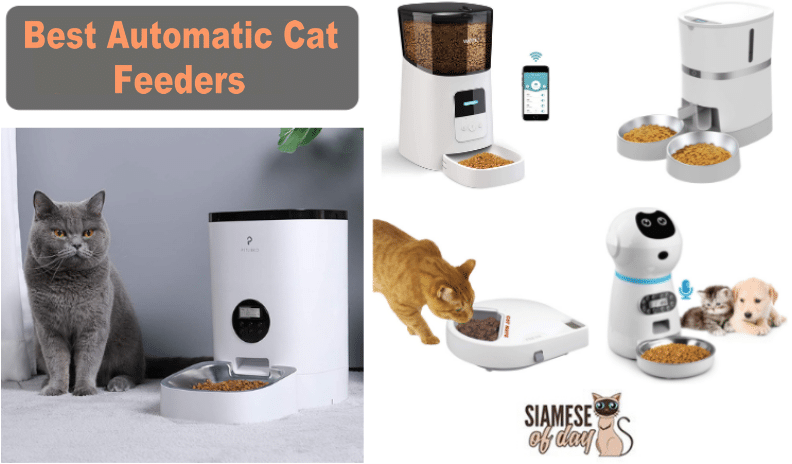 Although a cat is a low-maintenance pet, you must still ensure that it receives the proper nutrition daily. Working a full-time job or traveling for business can cause your cat's food pattern to be disrupted. You might want to consider an automatic cat feeder if you want to be able to regulate how much your cat eats and when mealtimes occur even while you are not at home.
Automatic cat feeders are available in a variety of styles and sizes. Some are simple and easy to use, while others are more complicated, with an accompanying app and numerous additional capabilities. It can be difficult to decide because there are so many possibilities. We've done the research and read the reviews to bring you our top selections for the finest automatic cat feeders in five categories.
If you look around for automatic cat feeders, you'll notice that they come with a variety of functions. However, when it comes to a trustworthy daily feeder, you'll want something programmable, simple to use, and long-lasting. Additional features may raise the cost without necessarily improving usability. Below is the list of the best automatic cat feeders of 2024.
---
PETLIBRO Automatic Cat Feeder, Timed Cat Feeder with Desiccant Bag for Dry Food, Programmable Portion Control 1-4 Meals per Day & 10s Voice Recorder for Small / Medium Pets (4L)
Pets demand love, care, and attention. The PETLIBRO Automatic Pet Feeder offers product meal timings and servings depending on your pet's age, weight, and activity, which you can set up easily with an easy-to-use LCD screen. As a result, your pet is fed regularly and feels secure, even when you're away, thanks to your voice recording as feeding calls. The Petlibro cat feeder falls somewhere in the middle of the cat feeder market. It's not a high-tech smart feeder, but it's also not a simple gravity-powered machine. It's a programmable upright feeder, which means it has a food hopper and dispenses food into its bowl on your specified schedule. The Petlibro feeder lets you choose how much and how often your cat eats during the day, with four configurable feeding periods and an urgent feed option. Like any upright feeder, you can only use it with dry food.
In addition to all of the standard characteristics of an upright feeder, the Petlibro includes a few unique features not found in other upright feeders. It comes with a built-in audio recorder that lets you record a 10-second spoken message to go with each meal. It promises to be simple and comfortable to use thanks to a few convenience features including an easy-to-disassemble body, fresh lid, and screen lock.
Once assembled, the unit measures 7.5″ x 7.5″ x 12″ and weighs just over 4.74 lbs. It has a 4-liter capacity of about 16.9 ounces.
The product got over 7k reviews with a rating of 4.7 and you have to spend around $69.99 for 4L while you can purchase a 6L feeder for around $75.99 on Amazon.
---
EZMioo Automatic Cat Feeder, Auto Robotics Dog Food Dispenser with Stainless Steel Food Bowl,1-4 Meals per Day Voice Recorder and Portion Control for Small & Medium Pets
Check out the EZMioo if affordability is your top priority but you still want a high-quality, programmable automatic cat feeder. This dog-shaped unit holds a reasonable amount of cat food and includes an infrared sensor to keep the bowl from overflowing. You can also make a recording and have it play when it's time to eat. Three-D batteries (not included) or a USB power cord and wall outlet converter are used to power the feeder.
The capacity of the feeder is 3.7L and it comes with easy-to-use LCD screen quick settings to customize meal times and portion sizes based on your pet's age, weight, and activity level. The product got only 49 4.7 star reviews on Amazon so far but it still stands ahead in the race than many highly reviewed products. You can purchase this easy-to-use automatic feeder on Amazon for just $49.99. You can easily set up 4 meals per day on it and it also has a manual feeding function on it.
---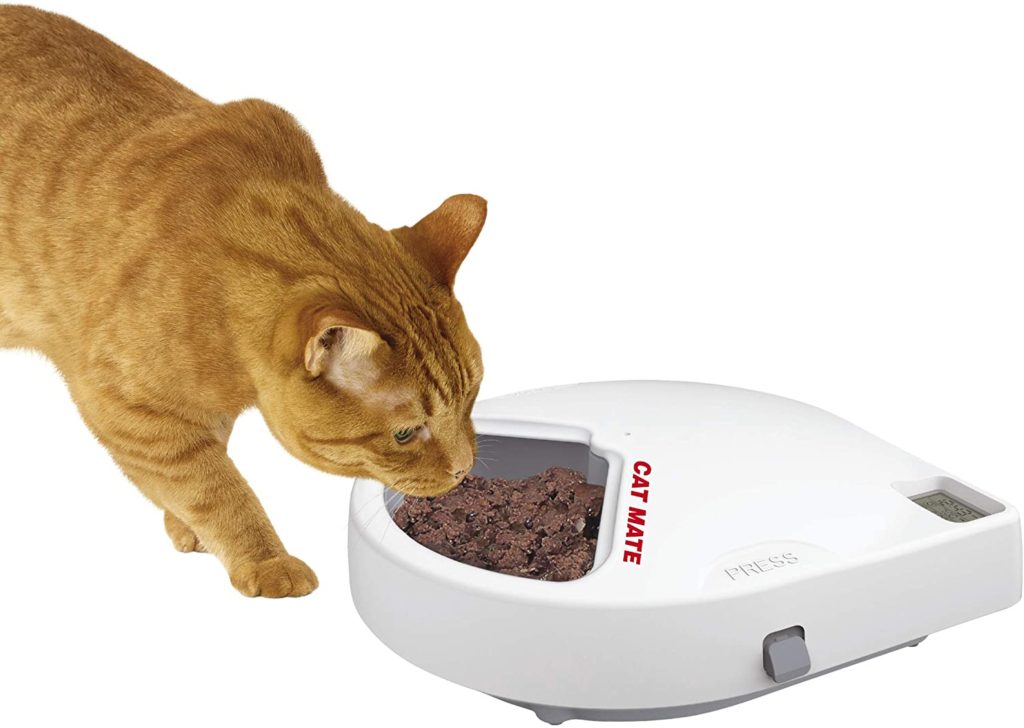 Cat Mate C500 Automatic Pet Feeder with Digital Timer for Cats and Small Dogs White, 13.4 x 11.4 x 2.8
When you're gone for the day, evening, or weekend, the Cat Mate C500 will provide up to 5 meals, one initial feed, and four additional scheduled feeds. The dual ice packs and close-fitting cover keep food fresh and are suitable for both wet and dry foods. Simply set the timer to the required meal times on the simple digital timer. All configured feeds are shown on the LCD after it is set.
Each of the five huge food compartments holds 3/4 pounds of food, which is enough to feed two cats or a small dog. 3 AA batteries (not supplied) are required for operation, which will last for over a year.
The C500 may be readily mounted to a wooden board for added stability if needed, as it is designed to be tamper-resistant to pets.
Wet or canned cat food spoils considerably faster than dry food, therefore if the can or pouch has been opened, it must be kept refrigerated until consumed. Five wet food meals can be preset in the Cat Mate C500 automatic food feeder, which keeps them cool with ice packs under the food trays. The food tray is dishwasher safe and each section holds a maximum of 1.25 cups of cat food.
The product has been reviewed by over 2900 customers on Amazon and you can purchase it for only $43.30 if you want a 3 meal feeder. For the 5 meal feeder, you have to spend around $50.99. Just program the easy-to-use digital timer to the required meal times. Once set, all programmed feeds are visible on the LCD.
---
Automatic Cat Feeder, WellToBe Pet Feeder Food Dispenser for Cat & Small Dog with Two-Way Splitter and Double Bowls, up to 6 Meals with Portion Control, Voice Recorder – Battery and Plug-in Power
The automatic cat food dispenser from WellTobe can feed multiple pets at the same time. The cat feeder comes with a 2-way splitter and two stainless steel bowls, allowing you to easily divide the food amount in half and distribute it into two separate bowls to feed two animals at once, saving space, money, and effort. The voice recorder-Turn On/Off Record your voice 10 seconds be played as each feeding dispensing to remind and attract your pets for mealtimes.
Following the written instructions included in the package makes programming a breeze. This incredible feeder has a plethora of useful and wonderful features, all of which must be programmed using the high-resolution LCD screen to feed your pets precisely and regularly. You can turn on or off each meal independently for up to 6 meals each day.
The wellTobe automatic cat feeder is powered by a power adapter and four D-size batteries. The product is reviewed by over 2700 customers on Amazon and it is rated 4.6 stars. You have to spend around $99.99 on this automatic cat feeder.
Related:
6 Best Automatic Cat Feeders (Review) in 2020 Petlibro Automatic Cat Feeder and Water Fountain Review