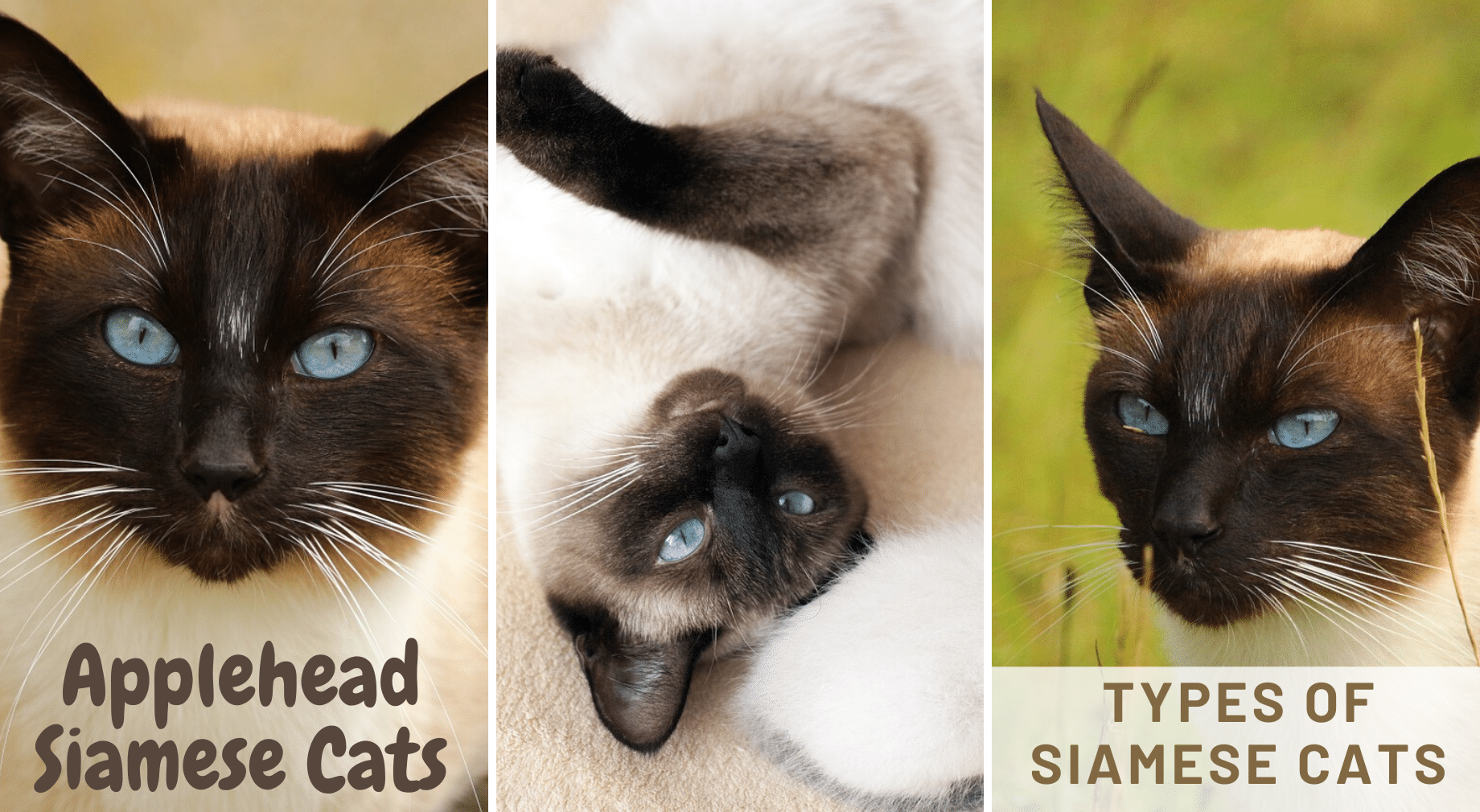 Siamese cats are one of the most popular cat breeds around the world. They are known for their elegant looks, blue eyes, and high intelligence.  Siamese cats are the most recognizable and widely known cats in the world.
These cats are very active and vocal and they love to play with their owners. Siamese cats are all born white and they develop colour points after a few years if their birth.
They are easy to identify through their body, seal points, facial features, and behaviour. Being one of the most ancient cat breeds, Siamese cats make the finest of all companion cats.
Types of Siamese cats
Generally, there are three types of Siamese cats.
Traditional Siamese (Apple Head Siamese): – This is the original breed of Siamese that was first imported from Siam (now Thailand).
Classic Siamese: – This classic breed was common in the '50s, the '60s and '70s.
Modern Siamese: – This is the current breed of Siamese.
The basic difference in these three is of the physical characteristics. Here in this topic, we will discuss Traditional or Applehead Siamese.
Applehead Siamese Cats – What Are They?
Traditional breed of Siamese which is originally imported from Siam (now Thailand) is often called Applesehead Siamese cats. This breed is fairly large as compared to modern and classic Siamese.
Their body is round, muscular and heavy. Traditional male Siamese can weigh up to 18 pounds. Head of traditional Siamese cats is fairly round (apple-shaped) and that is why they are often called as apple head Siamese.  Eyes of this breed are slightly rounder than other types.
Ears of this type of Siamese are equivalent to the average domestic cat. Applehead Siamese has long legs, long tail but still, the tail is shorter when compared to classic and modern type. Applehead Siamese cats have short silky hairs and they are generally quieter than classic as well as modern types of Siamese.
The history of the Applehead Siamese cat
Applehead Siamese cats are actually the traditional Siamese cats that were historically the original cats of Siam's Royal Family. These cats were highly valued in the ancient period and Siam's royal family bestowed them as gifts to friends, relatives and other state leaders.
According to historical documentation, Siamese cat has a history going back to at least 1350AD.  These traditional Siamese are called Applehead Siamese cats because their head looks very similar to an apple. Head is round and big with beautiful blue eyes and the shape of the head is very much similar to an apple.
In ancient period, Siamese cats were given high respect and these cats were considered to have great wisdom and mystical powers. It is said that when a member of the royal family was dying, a Siamese cat was specially selected to receive their soul upon their death.
Traditional Siamese or apple head Siamese breed was first exported to the west in the 19th century. Because of their distinctive looks and royal background apple head Siamese becomes highly popular and in demands as pets.

How does the Applehead Siamese differ from the modern Siamese cat?
Applehead Siamese looks and personality is very much similar to an ancient Siamese cat as compared to classic and modern standard Siamese cats.
Today's modern Siamese cats that are much common in the west are very vocal, slender, and angular with large ears and have a triangular head. The reason for the slight difference in traditional (Applehead Siamese) and modern Siamese looks and personality is because of the breeding within the last couple of centuries here in the West.
Applehead Siamese cats also have bigger bones, and a more muscular body as compared to modern Siamese. Ears of Applehead Siamese cats tend to be smaller than the modern Siamese. Modern Siamese cats have very thin, elongated body, and have very long pointed faces.
Applehead Siamese cats are considered to be the original Siamese breed that once existed in Siam and was first imported. Their tails and necks are both thicker and shorter than those of the modern Siamese. This breed of Siamese is extremely beautiful with all the personality, intelligence and loving nature for which the breed is known.
You will find Applehead Siamese in the same colour variants as the modern Siamese though there is a slight difference in shape and build of the body. Being larger and bulkier than the modern Siamese, heads of Applehead Siamese cats are rounder and less pronouncedly pointed, hence the "Applehead" name.
The Personality of the Applehead Siamese
Like modern Siamese cats, Applehead Siamese cats are also very intelligent and beautiful. These cats are attention seekers and they love to do many playful things in front of the owners to gain their attention. They are active but not that much vocal as compared to modern Siamese cats. Like other cat breeds, Applehead Siamese cats are also very curious cats and want to know about everything and everyone. They love human company and get easily depressed when left alone for a prolonged period of time.
When they are not playing they love to sit in the owner's laps, and often sleep near their owners at night. They love to play with kids and cat-friendly dogs. These cats also enjoy puzzle toys that require thought to move parts and release a treat.
Age and Health
Applehead Siamese cats are considered a healthy breed of cats. When compared with modern Siamese cats, Applehead can live longer than modern Siamese. Some of Applehead cats can live up to 25 years or longer and this is longer than the lifespan of many other cat breeds. Although they do not fall sick or have many health issues still physical exercise and activity are much needed to keep them active and energetic.
Enjoy spending time with your Applehead cat
Applehead Siamese cats are very friendly and loving pet. They are intelligent and very beautiful too. You will love spending your time with them at home and in return, they will give total devotion, dedication, love, companionship, entertainment, commitment, and affection.