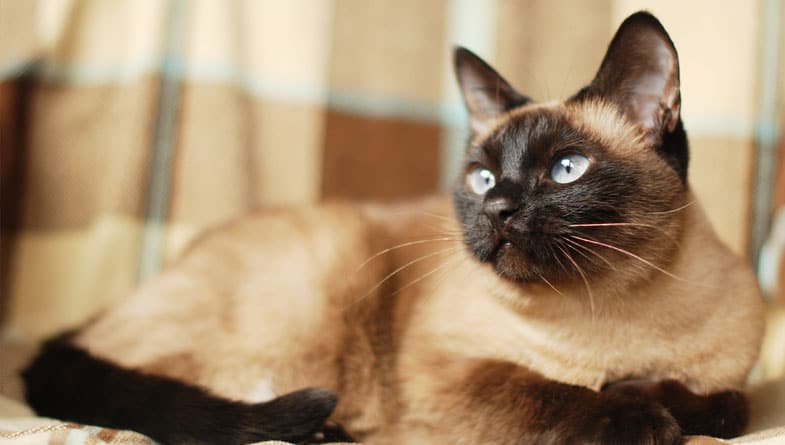 The Siamese cat is one of the oldest and popular breed of cats found across the globe. They are quite loving in nature with a pleasing and playful personality. They are very affectionate in nature and easily get attached to their owners. You can term it as a "dog like" affection for their owners.
What is the personality of a Siamese cat?
Siamese cats are like no other cats. One of the oldest breed of cats that originated in the regions of Thailand. During the olden days they were considered to be royalty. They rely heavily on companionship. Quite outgoing in nature, Siamese cats demand a lot of attention. They love to be social hence always prefer affectionate love from their owners. So, if you are someone who doesn't stay too long at home then this breed is not for you.
Siamese cats do not like to be left alone unlike some other cats who prefer to stay away from humans. Siamese instead tend to interfere in the daily lives of people around them especially the ones with whom they have stayed for long.
The personality of Siamese cats is quite unique and defined. When it comes to forming relationships with people, they are nothing like the other cat breeds. They are highly demanding and high maintenance as well. Hence it becomes very much important for a first-time owner to completely understand their needs.
Highly intelligent breed, the can be trained for picking up new skills. They love to carry out interesting things. Due to the high intelligence level, it becomes easier for them to communicate with other cats.
Siamese cats are also a loyal lot and bond closely with the family. They share a strong bond mostly with their caregiver. So you may find your cat lurking around you even when you are with other people.
They are also talkative in their own way. You may find your cat demanding something or the other through its unique vocal. It is important to ensure that Siamese cats do not get bored. They need enough of stimulation hence are keen in playing such as chasing balls or some puzzle games.
What cat breeds can get along with Siamese cats?
Siamese cats love to be among humans, or other cats. But what they dislike is when they are left aloof. They enjoy being the centre of attraction even when it comes to other cats. So, when you plan to introduce another cat or another Siamese there are various factors that need to be considered.
Let us go through the other cat breeds that can get along with a Siamese cat:
Super low maintenance, sweet and attractive Exotic shorthair or Shorthaired Persians.
Friendly and curious Maine Coon cat which is not too much demanding in nature.
Calm and glamorous Persian Cat that has a flowing coat. The traditional Persian cat is also known as Doll Face.
Affectionate and playful Siberian Cat who love to be around their owners.
The beautiful and friendly Ragdoll Cat, who run to greet their owners at the door.
The smart and impressive Aby or Abyssinian Cat. They like to stay as high as possible.
The playful Birman Cat or Sacred cat of Burma.

How do I introduce my Siamese cat to another cat?
Introducing a new cat to your Siamese cat is not as easy as placing them side to each other. There is a lot of caring and introduction required so that both the cats get acquainted to each other.Caring for two cats is going to be just as easy as caring for one. Both of them would give company and play with each other. It is all about introducing them to each other in an appropriate manner.
Firstly, place the new addition in a separate room. The room should be completely equipped with food, water and other essentials. This room should be out of the Siamese cat territory.
In a couple of days, shift the cat to another room that is completely equipped.
In the meantime, allow your Siamese cat to enter the previous room so that they can get accustomed to the smell of the new cat. For cats the scent or olfactory is very important. Before introducing them face to face, it is important for them to smell each other indirectly. Doing so, would help them to accept the other members scent as normal.
Try to feed both the cats on each on easy side of the door. It should be enjoyable for them along with each other's scent. Do not keep the food too close to the door else they may get upset over each one's presence.
Once the cat feel a bit settled. Try to switch over. Place the new cat in the normal environment and the Siamese cat in the room of the new cat. Both of them get used to the scent without getting frightened.
Gradually, get both the cats closer to each other. They would learn to feel safe and relaxed. Try to make their initial activities playful and enjoyable.
If either of them starts to get aggressive or fearful then separate them and start the entire process again.
What if my Siamese cat gets jealous of the new cat?
Given the personality of the Siamese cat, it can become obvious that they become jealous of a new entrant. For a Siamese cat, its owner is completely theirs. They tend to demand a lot of attention from their owners. At such times, having a new cat would mean disturbing this relationship.
In such times, you should not leave both the cats alone or without supervision. There are certain jealousy signs that need to be watched for in a Siamese cats.
They get withdrawn and start to stay alone.
They refuse to part from you and always lurk around you.
Poop outside the litter box, showing a sign of attention.
Try to get aggressive with the other cat or with the people around.
Start to bite or lick themselves too harshly
All of these signs, mean that the Siamese cat is not happy with the new entrant. So the bigger question arises as to whether you need to do away with the new cat.
No, there are ways you can handle the jealousy of your Siamese cat.
Shower it with a lot of attention and care.
Do not force your Siamese cat to share its things or play with the new cat.
In front of the other cat, play with your Siamese cat. Let them know that nothing changes even with the new entrant.
Give the new cat, its own space and food so that it does not encroach the Siamese cat space.
What if my Siamese cat bullies the other cat?
When you have a Siamese cat, apart from jealousy you may face another problem. They may tend to bully the other cat. Even after successfully introducing the new cat, there can be signs of bullying. When you do not take note of the signs then it can turn out to be aggressive.
It is important to make your Siamese cat understand that such behaviour would not be tolerated. In case if your Siamese cat doesn't allow you to show affection to the new cat then you also refuse to pet the Siamese cat. Gradually, the Siamese cat would mellow down and allow you to pet the new cat. In such cases, you can treat them.
In all this while, you should be ensuring that the new cat does not feel aloof. Also it should be getting its daily need of food, water and litter box.
Not all Siamese cats are bullies. At times your Siamese cat can surprise you with its friendly and easy going nature. At the end what matters is that both the cats should accept each other.
Conclusion
Siamese cats do get along well, with exception of few. But it has to do with other factors as mentioned above. Ensure that your cat is given all the attention and love as they deserve. Once the Siamese cats feel loved and cared then it probably would not create too much of an issue with the new entrant.
Also not all cats are friendly with Siamese cats. You need to create a conducive environment for your cats to become friendly with each other.