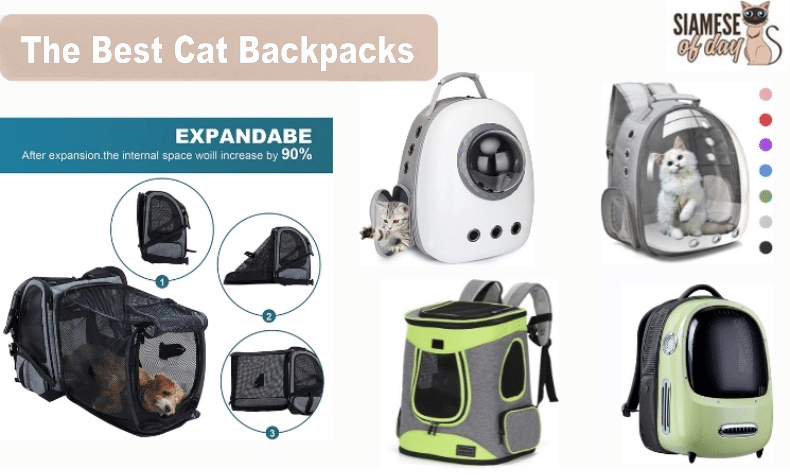 Is it difficult to leave your feline companion at home when you go on vacation, bicycle, or walk? A cat backpack is a solution for you and your Siamese! You won't have to leave your cat behind on future excursions since the cat backpack, a recent invention in cat carriers, allows you to take a trip with your cat while knowing that they are safe and comfortable.
How to choose the best cat backpack
Select your cat backpack with caution. Durability is crucial. Your cat might tear it to pieces if it's too thin (you've seen what those claws can do). Of course, you want your cat to be as comfortable as possible, so pick a backpack with a soft inner lining and plenty of ventilation.
However, don't choose a backpack that's too big. Cats prefer small, enclosed environments, and if your carrier is too large, they may be jostled around as you move. You also want the backpack to be a little snug so that you can comfortably carry it. Another thing to keep in mind is that cats, like people, prefer their privacy, so you might want to buy a backpack that isn't completely transparent.
Find a travel bag that can safely sit on a floor or vehicle seat if you're bringing your cat for a ride in the car or on an airplane. If necessary, make sure you can secure it with a seatbelt. Many backpacks are airline-approved, so keep that in mind.
Finally, choose a backpack that is easy to clean. In a clean, healthy environment, your cat will be happier. It will also be a lot easier for you if your pet creates a little mess, which is certain to happen at some point.
Best Cat Backpacks of 2024
You'll need a safe, comfy, and convenient cat carrier. We've browsed the web for the best pet backpacks available on Amazon. Here are the best cat backpacks to take your kitty on a vacation.
---
Portable Travel Pet Carrier Bubble Backpack for Dog and Cat Dome Airline Approved Space Capsule Waterproof Knapsack Outdoor Breathable Pet Bag (White-Gray).
Looking for a cat backpack with a little extra padding in the middle?   This airline-approved carrier is both attractive and functional for pets weighing up to 16 pounds. The bubble window provides an excellent view for your cat while also providing plenty of privacy (plus it will make them look like a million-mile astronaut). This carrier's mesh panels and nine air holes provide adequate ventilation.
It is made with high-quality PC material. It is easy to clean this beautiful backpack. To clean the bag, just press and rotate to open the transparent cover or honeycomb cover. The bag has got over 249 reviews with a 4.7-star rating on Amazon. It is available in three different colors and the price is just $39.99 for this amazing product.
---
Henkelion Cat Backpack Carrier Bubble Bag, Small Dog Backpack Carrier for Small Dogs, Space Capsule Pet Carrier Dog Hiking Backpack Airline Approved Travel Carrier – Black Grey Pink Blue Purple Green
This backpack in the shape of a spaceship is available in a variety of bright colors. An entirely transparent front allows you to keep an eye on your cat at all times. Furthermore, the material is both sturdy and breathable, allowing for plenty of air circulation. Backpressure is relieved by the straps. This carrier may be worn as a backpack or a front pack, which makes it ideal for hiking, biking, or sightseeing. The backpack straps can absorb sweat and remove pressure from your backpack, allowing you to feel comfortable.
The bag is made with a PC shell and oxford fabric. The cat carrier backpack fits most small pets up to 10 lbs.
This bag is available on Amazon for just $39.99 and has been reviewed by over 5,967 customers on Amazon with a star rating of 4.4 stars. The bag is available in six different colors on Amazon.
---
PETKIT-Backpack-Portable-Ventilated-Lightweight
With PETKIT, you can take your cat on a world tour. The company included a large window in this cat carrier backpack so your kitty can enjoy the scenery while travelling.  The tinted window blocks out bright light, making it a relaxing environment for your cat to travel in. Your pet will have superb air circulation on the go thanks to mesh panels and various ventilation holes. The silent, built-in fan circulates fresh air to keep the temperature inside comfortable. You can't go wrong with PETKIT if you want the best for your pet!
Do you want to keep an eye on your cat at night? Simply double-tap the controls to gradually turn on the light. Yes, there is a light option available on this backpack and all you have to do is to bring a power backup with you. The bag is made up of sturdy material so you don't need to worry about damage done by clawing or gnawing, while also ensuring your cat's complete comfort.
This backpack is available for just $64.99 on Amazon and you have the option to choose between two colors. This bag has got star ratings of 4.6 on Amazon by over 1K customers.
---
Petsfit-Expandable-Backpack-Carrier-Ventilation
Are you looking for a lightweight, comfy carrier bag? To relieve pressure on your back, the Petsfit backpack has wide, stronger straps, adjustable shoulder padding, and two retractable buckles. In addition, the carrier's back is made of a breathable mesh elastic sponge. Your kitty won't be able to escape thanks to four huge, ventilated windows (choose mesh or acrylic) and locked zippers. It's composed of strong oxford fabric and has two zippers and pockets on both sides, making it both waterproof and environmentally sustainable. When not in use, the backpack can be folded up and stored.
This product has been reviewed by 182 customers on Amazon so far with a star rating of 4.7/5. You have to spend around $64.99 to buy this beautiful bag.
---
Petsfit-Comfort-Dogs-Carriers-Backpack
During your joint trips, your favorite pet will be comfortable with this backpack. It has enough room for little paws to turn around and stand up. Thanks to translucent mesh walls that provide ventilation, the cat will continuously consider the environment. This bag has a padded handle and shoulder strap for comfort, as well as side compartments for carrying the essentials. Because the bag is constructed of tough polyester, it's ideal for going trekking, camping, or flying with your pet. It is a perfect backpack for a pet that weighs around 15lbs.
This backpack has been reviewed by over 900 customers on Amazon with a star rating of 4.7/5. It is available in three different colors and 2 different designs. You have to spend around $62.99 to buy this bag on Amazon.
Bottom Line
With so many carriers to select from, it might be difficult to know which one is best for your feline companion. However, since all of these cat backpacks are built of durable materials and provide adequate ventilation, it's hard to go wrong with any of them listed above. With sizes for tiny and large cats, you should have no trouble selecting the right fit for your cat. With so many various styles to pick from, you'll be able to find a carrier that complements your style.