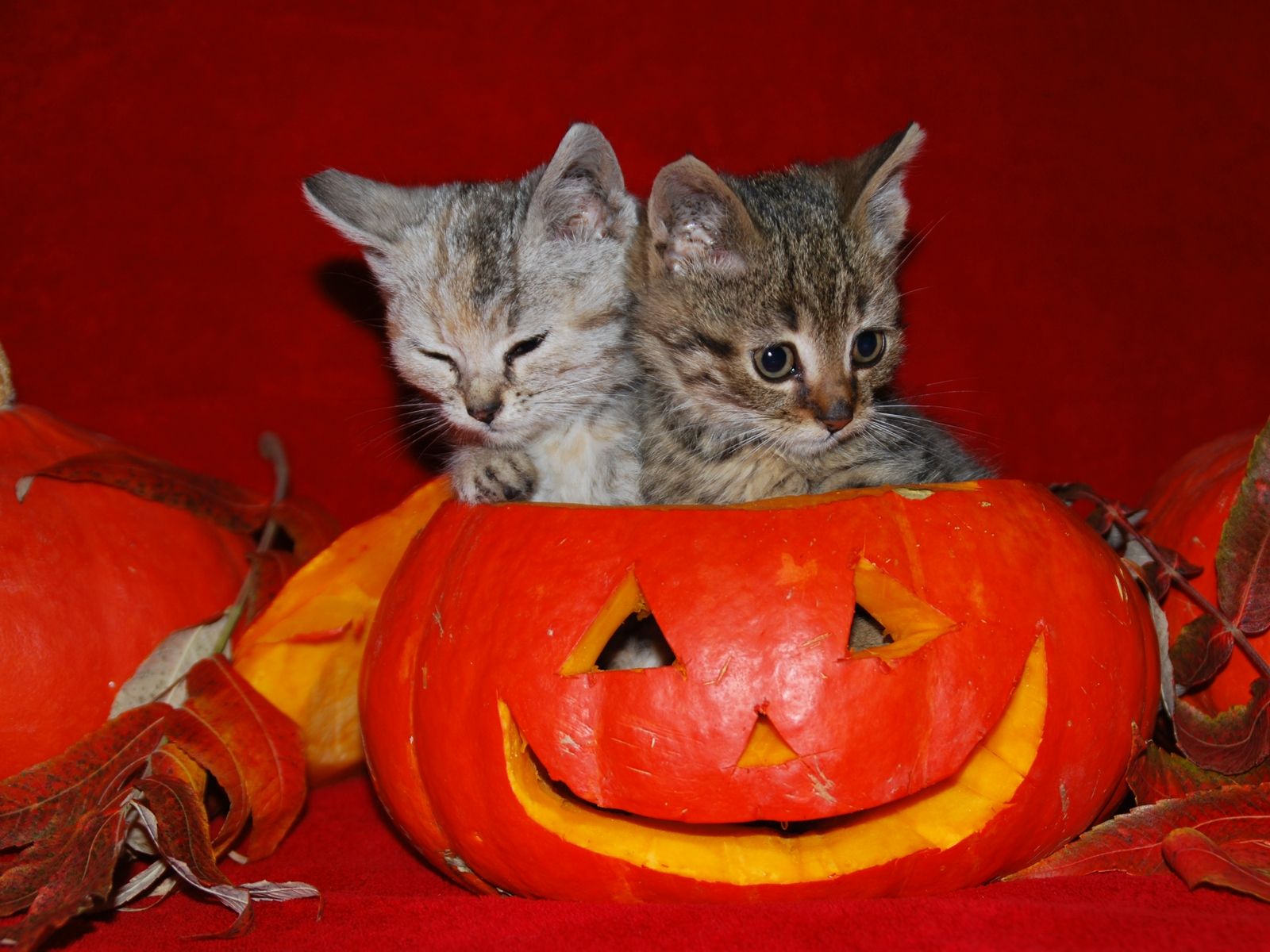 The spooky time is nearing, are you all geared up for Halloween. It is time for brainstorming ideas when it comes to deciding the best costume to be worn for Halloween.
It is fun when it comes to selecting a Halloween costume but for some this may seem to be a tedious task. People who have a pet cat at home may be wondering how can we leave them and go about trick or treating. But with a pet cat you can double up the Halloween fun.
Yes, you heard that right. You can also dress up your little feline with a great looking Halloween costume and enjoy. There are a lot of purr-fect Halloween costumes for your little feline in the market.
Surely, your feline would enjoy this new attention. Halloween would never seem to be the same once you have dressed up your feline.
Let us go through some of the best costumes you can make your cat wear and also how to keep them safe this Halloween.
Steps to Keep Your Cat Safe This Halloween
Prefer cats to stay indoors:
It is a good idea to get your cat indoors during Halloween so that they do not panic or get scared with all those scary looking costumes. There would be lots of noises since adults and children would be roaming the streets in Halloween costumes for tricks and treats. This can frighten the cat; hence it would be better to get them indoors. Though not everyone intends to harm animals but there are some people who would purposefully try to scare the pets around.
Do not leave candles unattended:
Halloween time most of the people make use of candles or jack-o-lanterns in their homes. For humans this is all fun and frolic but for your feline this can turn out to be dangerous when left unattended. Kitties are very curios and may try to explore those lanterns. Place the candles or lantern out of kitties reach and also turn them off before going to bed.
Careful while opening the door:
There would be a lot of visitors for tricks and treats. Hence, you should be cautious every time while opening the door for visitors. Your cat could get startled with the sudden unusual activity. If your cat is used to staying outdoors, then it is a better option to keep it in a room during Halloween.

Keep decorations out of kitty's reach:
Surely, you would be decorating the house inside out with strange looking decorations. Your cat can get attracted towards the blinking lights and may try to reach towards it leading in entanglement. The cat may also try to nibble on those lights or any other decorations and can get electrocuted. There are chances that the kitty may accidently ingest small decorations lying around. Hence, ensure to not leave any kind of decorations unattended and it should be kept away from your kitty.
Distract your cat:
The Halloween time can turn out to be very stressful for your little kitty. With all the constant visitors and noises, the cat may get panicked. Consider to distract your kitty by treating them with some healthy treats. Do not give them the candy that are part of Halloween treat since those can lead to obesity.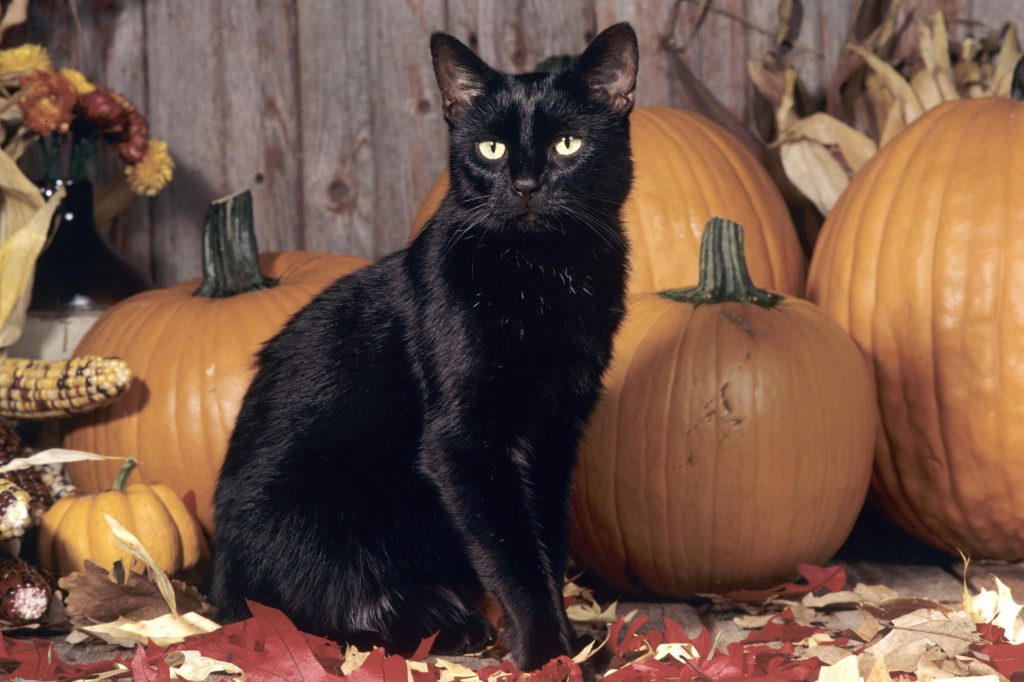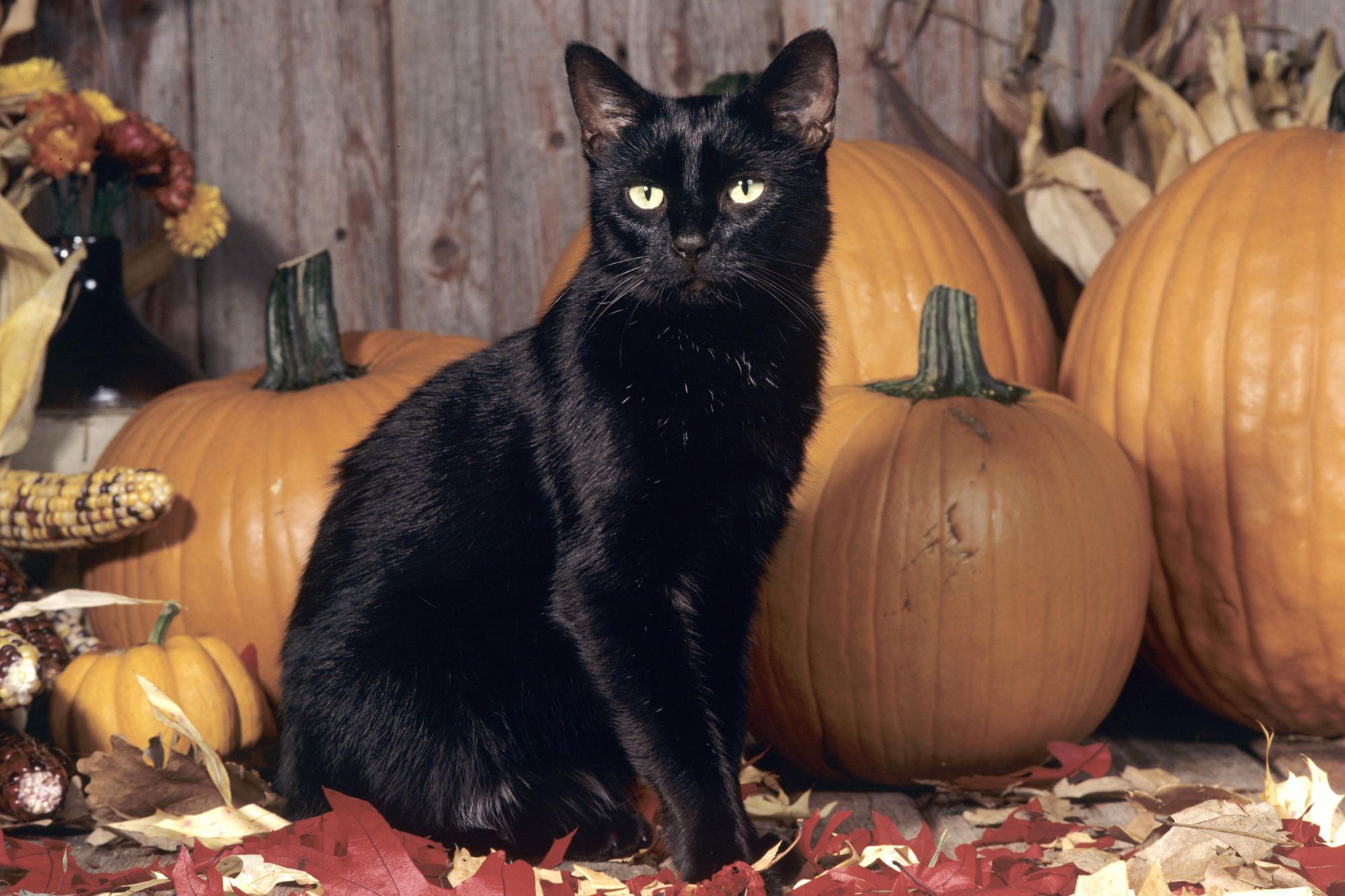 Halloween Cat Makeup
Halloween costume is incomplete without the best makeup. For those of you who are dressing up like a feline, would also want to include some scary cat make-up as well for completing the look.
Simple cat makeup with braided hair in the shape of cat ears. Dewy complexion with bold red lipstick. Get some delicate cat eye makeup.
For those who want to look feisty and at the same time gorgeous. Get some dramatic cat eye makeup done by making use of dark brown with some pink eye shadow. Line the bottom and top of the eyes with a black eyeliner. For a dramatic effect, you can also create leopard spots near the eyelid.
You can also create a full leopard face with some great detailing. Have some fierce cat eye makeup with leopard spots. All you would need is dark eye shadow, black liner and brown eye shadow.
Looking out for an easy cat makeup then just go in for golden dots with a pencil brush. Outline the spots with the black eyeliner. Use black eye shadow for lining the entire line. You can give it a natural look by changing the location of the spots.
Top Halloween Cat Names
Are you looking out for a spoktacular cat names this Halloween.  Here we bring a list of top mysterious kitty names.
Raven
Gremlin
Bones
Darth Vader
Exorcist
Batty
Eerie
Hocus Pocus
Reaper
Damien
Cujo
Frankenstein
Gargoyles
Casper
Specter
Top Cat Halloween costume:
You can also select some of the best costume for your feline and enjoy this day.
Bat wings
Lion King Mane
Wizard or Hissy Witch with some tiny glasses
Unicorn look with horns
Cowboy costume
The pumpkin look
Octopus look
Spider with legs
Little Red riding hood
Purrfect princess
Police Officer
For adults, you can also double up the joy with Halloween cups and tees specially designed for feline lovers. Visit Siamese of day website and browse through their exciting collections of tees, backpacks and mugs.