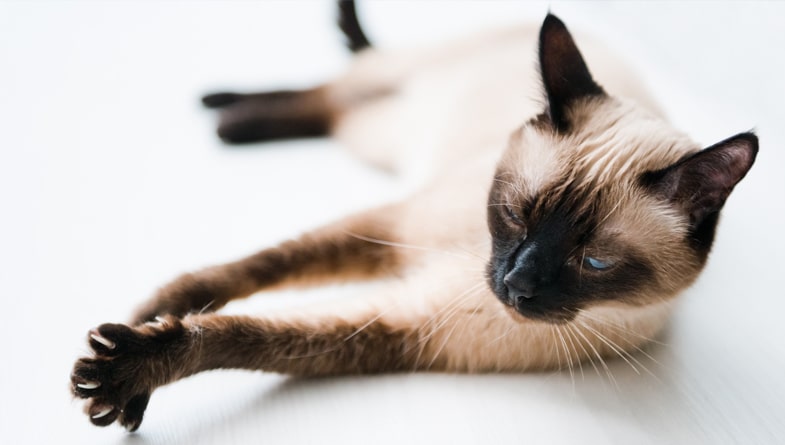 Siamese cats are very friendly in nature. They require love, attention and affection especially from their owners. Siamese cat's personality is very much similar to that of dogs. They are also fun loving and intelligent animals. They try to be around their owner and display affection.
Similar to dogs, since the Siamese cats like to interact with the humans it also becomes easier to train them. Due to their level of intelligence this task of getting them trained becomes easier.
Importance of a Siamese Cat Training
Getting a Siamese cat trained is a straightforward task. Due to their level of intelligence as opposed to other breed of cats, you can get them trained on various activities. Siamese cats tend to learn multiple task for pleasing their owners. The best part is, the training does not require too much of time since they learn it quickly.
Certain simple tasks such as climbing on the shelves or opening the bridge can be done by themselves. This breed of cat is social and hover around humans. Hence it is always a good idea to start the training from the beginning itself so that it becomes easier for you as well as your cat.
It is important to make the training process a pleasurable one for your cat. Avoid using forceful techniques or disciplining your cat. Do not punish your cat else it can backfire and you may not get the results that you are looking out for.
Useful Training Equipment and Accessories for Siamese Cat
There are a lot of training equipment and accessories available in the market. Depending on the type of training you plan to provide your cat, the accessories and equipment's can be picked up.
Scratch Posts
Litter Tray
Food Bowls
Cat Collar
Clicker
Target Stick
Various toys for cat
Some treats for your cat to enjoy
Clicker Training
Clicker training is known to stimulate the mind of the cat. This in turn can help in correcting certain behaviour of the cat. It can also be used as a good form of exercise for your cat so that its health is maintained. Clicker training is a good way of bonding with your cat which in turn can strengthen the bond and also not allow for boredom.
In this particular training, the trainer makes used of handheld clicker. It makes a sound with this clicker whenever the pet indulges in a good behaviour. This is basically a way of making the pet understand that a particular type of behaviour is accepted by the trainer.
Try to first establish a relationship between the clicker sound and the treats with your cat. Reward them with a treat and the sound of the clicker to reinforce positivity in the cat. Some take time to establish that connection whereas some cat quickly understands this connection.

Leash Training
There is an ongoing debate among the cat enthusiast to justify the benefits of leash training. Some find it too inhumane whereas some say that it is beneficial for the pet. For those of you who would love to leash train your Siamese cat, it is important to have lots of patience and love while doing so. Do not get frustrated and punish your cat during the training sessions.
Make use of a harness and a light leash. Attach the leash at the back instead of the neck so that it does not create discomfort.
Place the harness near the bed of your cat so that they can connect with it through its smell.
Put your cat in the harness for short duration. Allow enough room for at least two fingers to fit in properly. Try to praise the cat while the harness is on. Repeat this daily until the cat is accustomed to wearing the harness.
Once the cat is used to the harness for shorter durations, increase the time. Let them stay on with the harness for the entire day. They can roam the house freely with the harness. Just keep a watch on them else the harness may get caught in something else.
Now it is time to introduce them to the leash. Let them roam around the house with the leash attached to the harness freely. Avoid any tangling.
In a couple of days, take the other end of the leash and follow the cat around. Do not apply any sort of jerk or tension. Provide them with lot of space.
Now it is time to go outdoors. Do not force your cat to go outside until it is ready to go. At times, you can leave the door open and see if it ventures out.
Try for short trips outdoors with the leash and them make it a regular occasion. It is all about getting the cat use to the harness and the leash.
Different Training's Required for a Siamese cat
For Siamese cat who are so intelligent and obedient, you can try out various training techniques.
Litter Training: Starting the litter training as early as possible is essential. Get the right type of supplies for litter training. Choose a convenient litter box so that the cat can easily get used to. Place the cat in the litter box whenever it needs to carry out the urgent business. Carrying out this process every time would make the cat understand the need for a litter box.
Making the cat to sit: It is important to make your cat sit still. For this you need to carry out the task in a comfortable place. Place them on a table and gently rub their cheeks. Get his attention with its favourite treat above his eye level. Repeat the word "Sit". You would need to repeat this multiple times unless your kitty understands what it is exactly used for. Hand gestures would help them to understand what they are supposed to do when you say "Sit".
Do's and Don'ts in Providing Training to a Siamese cat
There are certain rules that need to be followed when you are training a Siamese cat.
Do's:
Call out their name for attention during training.
Start the training during the early stages.
Set up a safe environment while training them
Initially keep the training sessions short.
Make use of rewards or treats for their desirable behavior
Set up a strong bond during the training sessions.
Don'ts
Do not get harsh with them or punish them constantly.
Avoid longer training sessions when your cat is not in the mood to.
Do not overdo any sessions.
Do not force your cat to do something that they do not like.
Do not get frustrated or lose your cool
Tips to Make the Training Task Easy for A Siamese cat
While training your cat, there are certain tips that you need to adhere so that the process becomes easier and smoother.
Try to inculcate the training as early as possible so that they can pick up faster.
Ensure that all accessories and equipment's used are safe and clean.
Always understand your cat and avoid forcing any command on them.
Create a strong bond with your cat before any training session.
Try to connect a relationship with any of the equipment that you are using for the training.
If your cat is stern, do not punish. Instead you also be firm and persuasive.
Reward your cat when they carry out any task successfully.