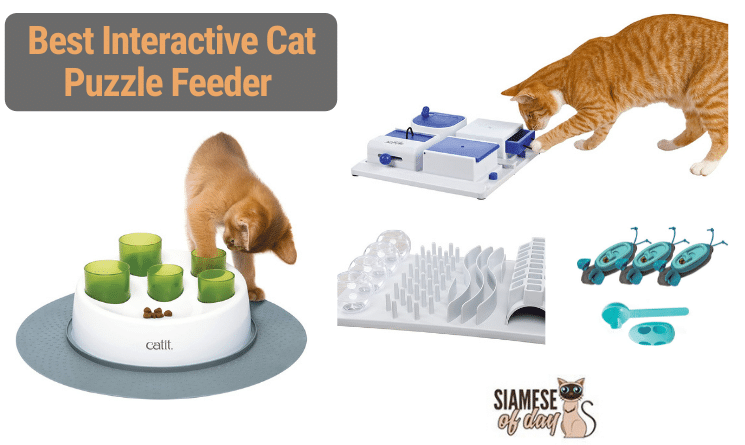 The finest cat puzzle feeders are made to keep your cat entertained by allowing them to figure out how to get something to eat, much like they would in the wild. Cats are intrinsic hunters and have not evolved to find food in the same place at the same time every day. They relish the challenge of figuring out how to hunt and get food on their own. Puzzle feeders offer them identical problem-solving opportunities as the hunt — figuring out where to look for food and then how to get to it to eat it.
Are interactive feeders good for cats?
Food puzzles, also known as interactive feeders, food puzzle toys, or treat toys, are a fun and stimulating method to keep your indoor cat amused. They allow cats to choose where, when, how much, and what they eat by allowing them to use their natural hunting instincts to "work" for their food. Interactive cat feeders come in a variety of shapes and sizes, but they all have the same goal: to make indoor cats' lives more interesting by allowing them to "earn" for their food. The Interactive Cat Feeder aims to provide hours of amusement for your cat while also helping to meet its natural impulses and cravings without having you do any work! Most of these puzzle feeders allow you to put dry or semi-moistened food inside so that your cats may work hard to get every last bit out in exchange for dinnertime praise!  In this article, we will help you find the best interactive cat feeders so that you can choose the one you like.
Trixie Cat Activity Feeder, Cat Interactive Toy, Treat Dispenser
It is an exciting board game with five different game modules. It's good for their physical and mental health. The games allow cats to use their brain, tongue, paws, claws, or toes to get food. You can use both solid as well liquid food in this interactive cat puzzle feeder. The upper body is made of plastic while the bottom side got rubber which makes it anti-slip. The deep channels and enclosures, which are made of dishwasher-safe ABS food-grade plastic, are ideal for storing dry food. You can easily control portion size with this puzzle feeder provided this is the only place your cat is provided with food, and the manufacturers recommend you move the bowl to different places in the house to encourage the feeling that they are hunting for food as they would in the wild. This product has got over 14k 4.3 reviews on Amazon which shows how popular this product is. Moreover, this product is only available for $33.59 on Amazon and the brand provides you with several other exciting feeder options as well.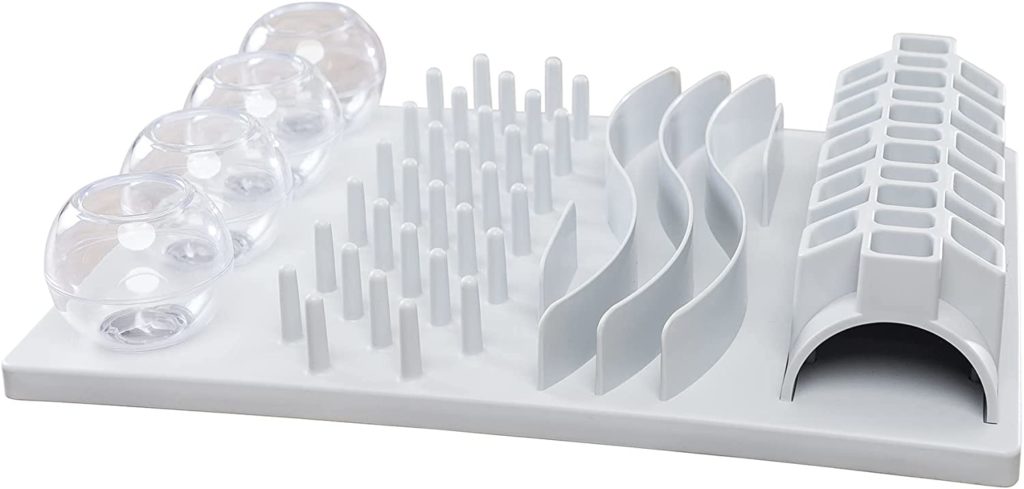 Trixie Cat Activity Feeder, Cat Interactive Toy, Treat Dispenser
Many cat puzzles aren't particularly challenging. They're more like cat annoyers, designed to frustrate and slow down your cat rather than encourage them to use their brains in any meaningful way. However, not all cat puzzles are created equal: the Trixie feeder appears to be a terrific method to get your cat's synapses working. This set includes 4 Compartments that can be Individually placed on the base. To retrieve a reward, you must master each compartment's unique challenge: lids, drawers, ropes, and sliding knobs. The base is held firmly in place by non-slip rubber feet.  The product dimensions ae12 x 12 inches. There's just about enough room in here for a great dry food meal. Some users have reported that their cats enjoy the feeder even after they've remembered the puzzle solutions, so even if it only takes them a couple of minutes to get everything out instead of half an hour, this could be a terrific way to cut down on dinner time. The product is available for $26.33 on Amazon and so far 14,416 (4.3) reviews are written by customers. This product is dishwasher safe and it comes with an instruction manual as well.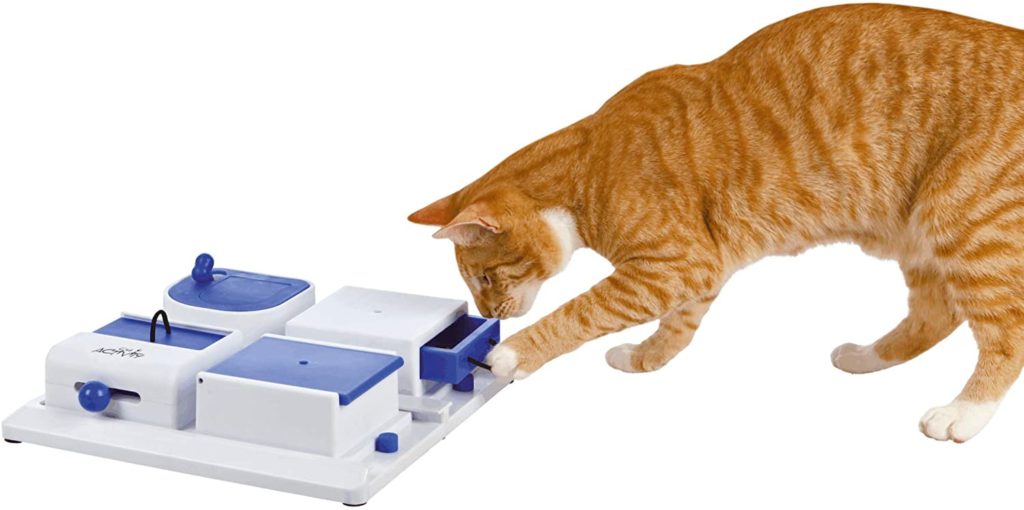 The Company of Animals CATCH Interactive Feeder, Purple
The Company of Animals Store interactive feeder has been intended to fit all cats, regardless of weight or breed. It's built of durable plastic (no phthalates) and is dishwasher safe, so it's suitable for both indoor and outdoor use. The desired amount of cat food is scattered across the Catch and it is up to your cat to push or grab the food between the many smoothly rounded spikes. It stimulates a cat's instinct and helps turn feed-time into an inspiring hunting game. The product has been designed in a way that it slows down eating which makes it great for overweight cats or those prone to gulping and digestive problems. The product is available for $29.99 on Amazon and has been rated 4 of 5 stars by 1,700 customers. The product is suited for wet and dry cat foods and works well for cats of all ages.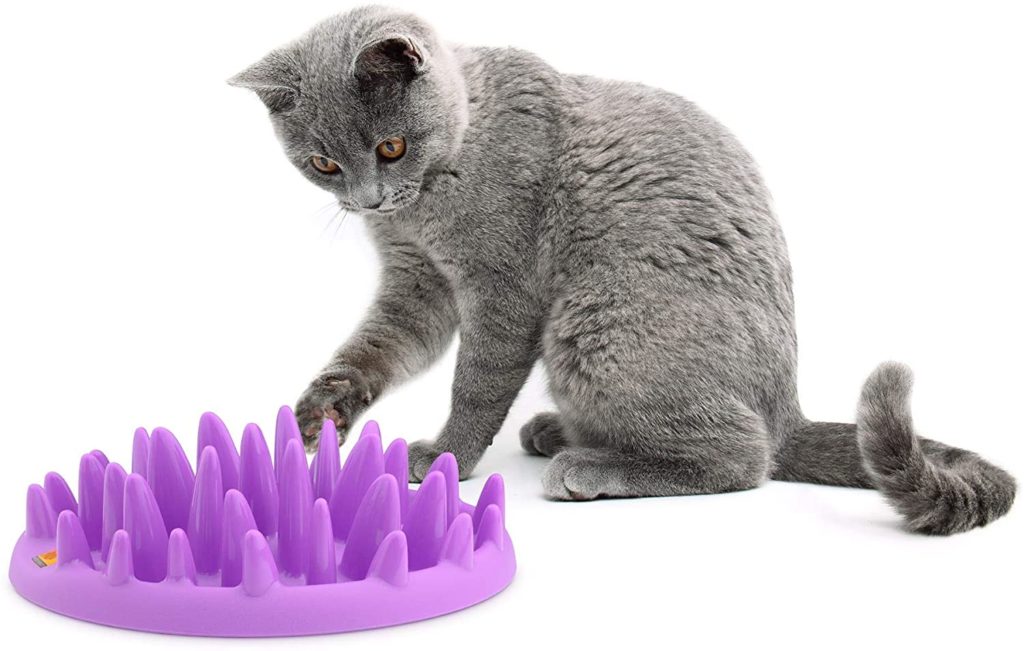 Catit Senses 2.0 Digger Interactive Cat Toy
The Catit Senses 2.0 Digger makes it entertaining and realistic for cats to work for their food and snacks. Its clever design focuses on a cat's natural desire to paw out smaller amounts of food, stimulating activity and reducing binge feeding. The product includes 3 short, narrow tubes, 2 long, wide tubes, a stable base, and a rubber mat to lock the product in place. Different size tubes activate your cat's natural pawing behavior during playtime. Fill the tubes with food or treats for your cat to sniff and paw out! The tubes are easy to use and clean because they have rounded ends. In the front, the slanted surface can be used to add more kibble. When you're not at home, the digger is a great option. The cat will first eat the kibble that is easiest to access, after that it has to 'work' a little harder for its food. The Digger is easy to disassemble and clean. The product encourages your cat to use their instincts indoors by stimulating their sight, smell, taste, touch, and hearing. The product is available on Amazon for just $23.44 and so far over 7000 customers have rated it 4.3 stars out of 5.